£3/4m for Wave Energy Research
11/01/2007 09:31:41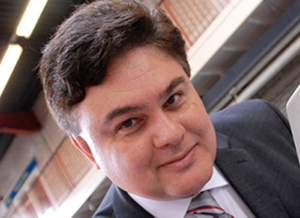 LUREG Director George Aggidis
Lancaster University's Renewable Energy Group (LUREG) has won two major grants totalling £3/4m to help harness the power of the sea and covert it into energy.
George Aggidis, Director of LUREG, has been awarded £600,000 by the Engineering and Physical Sciences Research Council (EPSRC) for research into Marine Energy and £130,000 by the Joule Centre to carry out research into a new wave energy converter.
The EPSRC funding is part of a £5.5 million four-year research project SuperGen Marine 2 which will be carried out by LUREG and partners at the Universities of Edinburgh, Heriot-Watt, Strathclyde and Queen's Belfast.
The SuperGen Marine Energy Consortium aims to increase knowledge and understanding of the extraction of energy from the sea to reduce investment risk and uncertainty. Now in its second phase, Supergen Marine 2 will carry out further research into challenges facing Marine Energy from making designs more cost effective and energy efficient to improving methods of energy extraction.
Meanwhile, George Aggidis has also been awarded £130,000 from the Joule Centre to carry out research on a new wave energy converter called WRASPA.
WRASPA , which is currently in development, is designed to be a hinged device mounted on the sea bed. The top part of the device– the collector body – will be around 20 metres wide, and will harness both the surging forward and backward motion of the sea.
Designed to work in water depths of around 20-50 metres, a scale model of the WRASPA wave energy converter will be evaluated and developed by means of computer modelling and wave tank tests in a joint £1/4m programme between Manchester Metropolitan University (MMU) and Lancaster University (LU).
George Aggidis said: "Lancaster University is a leader in the field of Marine Energy. Working along with partners and colleagues, these two research projects will further our understanding and technical ability in this important area of renewable energy.
"In the longer term, Marine Energy devices such as WRASPA will lead to the production of clean, renewable energy which will replace diminishing fossil fuels, reduce carbon emissions, and assist the government in meeting its commitment to the Kyoto Agreement on climate change.
"Ultimately, export of this technology will not only bring economic benefits to the Northwest but will benefit the wider world."
●The EPSRC is the UK Government's leading funding agency for research and training in engineering and the physical sciences.
●The Joule Centre for energy Research & Development is a partnership of North West Universities, commercial organisations and other stakeholders associated with the energy industry.