LUMS Praised For Strengthening International HIV/AIDS Alliance
12/20/2007 12:37:10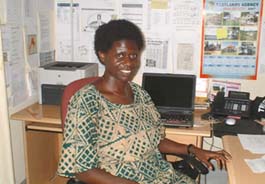 Milly Katana
The country manager of Uganda's International HIV/AIDS Alliance says a business module she took at Lancaster University Management School (LUMS) was "very empowering".
Milly Katana is on a management development course run by Lancaster University Management School (LUMS) and five other business schools worldwide to enable her organisation to make even greater strides to prevent the spread of HIV and help those affected.
Milly started the International Masters in Practising Management (IMPM) in April 2007 and, after completing the 18-month diploma, plans to register for a Masters degree.
She said: "I found the LUMS reflective module very empowering and a great platform to build on. It's not always easy to take a step back and analyse the way an organisation is running but by doing that you get the overall strategic positioning. This is the biggest learning so far. Also to have patience with individuals and let things take their course without interfering."
Along with four other senior managers from around the world, she will begin the third module of the IMPM in January 2008. The IMPM programme is designed to equip existing managers with advanced skills in leadership and organisational strategy. Having already completed modules at LUMS and McGillUniversity in Montreal, Milly will fly out to the Indian Institute of Management in Bangalore in January for the next phase of her learning.
Milly is responsible for the overall alignment of the Alliance's country office in Uganda – focusing on strategy, partnership building, fundraising and resource mobilisation in areas affected by HIV.
She said: "I signed up to the IMPM because I found that on-the-job management training is not sufficient to prepare me for the challenge of growing our organisation in Uganda.
"I did an MBA in Uganda ten years ago, but that course also did not ready me for the combination of conundrums that I face in my job. As country manager I'm always thinking about strategy, finance, public image and so on, and I felt I needed something extra to help me overcome these challenges."
There are 27 students on the current IMPM cohort from a range of public, private and not-for-profit organisations.
"Working with participants from different countries and backgrounds, and sharing practical experiences, has really helped break down any perceived cultural barriers.
"Ultimately I hope this will help me to present myself differently to different people, from understanding people with HIV to appealing to World Bank gurus for financial backing."
The IMPM is a co-operative venture between Lancaster University Management School; McGill University, Montreal; INSEAD, Fontainebleau; Indian Institute of Management, Bangalore; KDI School of Public Policy and Management in Seoul, Korea; and academics from three universities in Japan – Hitotsubashi in Tokyo; Kobe, and the Japan Advanced Institute of Science and Technology.
Established in 1993, the International HIV/AIDS Alliance (the Alliance) is a global partnership of nationally-based organisations working to support community action on AIDS.
http://www.lums.lancs.ac.uk/masters/IMPM/