Lancaster University Energy Conference
09/02/2005 11:55:47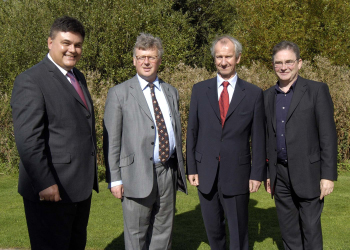 Left to right George Aggidis, Director of Lancaster
University Renewable Energy Group, Lord Inglewood
former MEP, John Roberts CBE Chief Executive of
United Utilities plc, Brian Wilson former UK Energy
Minister
Lancaster University has turned the clocks forward to 2020 to look at the future impact of energy on our lifestyles.
As the Government gears up to reduce greenhouse gas emissions by 60 per cent by 2050 Lancaster University asked a number of eminent researchers to offer their visions of the future - how life will look in 15 years time. To make a 60 per cent reduction by 2050, Government policy aims for a 20 per cent reduction by 2020 - only 15 years from now.
Hybrid cars, wind turbines and solar panels are already becoming features of our lives but, as the Government targets begin to bite, how else will our lives change? How will we get to work, how will we travel, what type of homes will we live in?
The one-day conference, Energy Through the Looking Glass - The Impact of Energy on your life in 2020, attempted to answer some of these questions.
The event, held on Tuesday, September 20, was the second Lancaster University energy policy conference. It incorporated the third annual North West Sustainable Energy Conference, which was backed by the Northwest Energy Council (NWEC), and included expert speakers from a range of government, academic and environmental organisations.
The conference featured low and renewable energy demonstrations including energy efficient cars and wall mounted wind turbines, which can be used to generate electricity for the home.
George Aggidis, Director of Lancaster University Renewable Energy Group and Chairman of the Conference Organising Committee, said: "Securing a 60 per cent reduction in carbon emissions is a considerable challenge that requires a radical shift in perspective in the way we live, work and play. It also requires policy co-ordination across a number of Government departments to address all four principles in the Energy White Paper: the 60 per cent target, fuel poverty, security of supply and competitive markets.
Current policies, programmes and trends are not sufficient to put the UK on a trajectory that will lead to this level of emissions reductions by 2050. This conference is a chance to look at what the options are and how they will make a difference to our lives."
Julian Carter, General Manager of Renewables Northwest, which organises the North West Sustainable Energy Conference, said Renewables Northwest was pleased to have its third sustainable energy conference incorporated into the event.
He said: "The Northwest Sustainable Energy Conference has built up an excellent reputation and joining with Lancaster University after last year's highly successful conference was an ideal match-up. We are particularly delighted that a number of exhibitors gave attendees practical demonstrations in what they can actually do to reduce their energy consumption."
Joe Flanagan, Northwest Development Agency (NWDA) Head of Energy, said: "Energy is a key sector in the Northwest employing some 50,000 and contributing £5 billion to the regional economy. Tackling climate change is now a key international priority and this can only be achieved through the development of sustainable energy supplies. This is both a challenge, and an opportunity, for the Northwest and we are committed to supporting businesses in exploiting these opportunities."
For further details and delegate information please contact the conference office on 01524 592341.