Professor returns to his roots with pioneering new degree
05/06/2005 13:20:45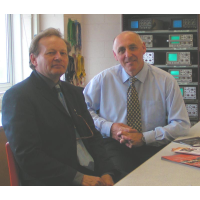 Lancaster University's Professor Derek Seward has helped his hometown of Barrow to pioneer a brand new Engineering Degree at Furness College.
Professor Seward, the University' s recently-appointed Director of Regional Outreach, has been assessing the Science and Technology gaps in Higher Education institutions across the UK, including Cumbria.
The degree in engineering was highlighted as a qualification gap by the Cove partnership (Centre of Vocational Excellence in Ship Building and Marine Engineering) made up of Furness College and its partner organisation BAE Systems. It was recognised that such a degree would provide a progression route from the very successful Engineering Higher National Certificate/Diploma qualifications already provided by Furness College.
The Bachelor of Engineering Ordinary Degree (B.Eng) will start at Furness College in September 2005. The course will be offered as two different degrees – either Electrical Engineering or Mechanical Engineering. It provides those working in the engineering industry with a qualification that can progress them from technician to engineer status and the first step towards membership of engineering institutions.
Furness College Engineering lecturing team leader Ken Seddon said: "I am extremely excited by this new partnership with Lancaster University. The two new degrees in Electrical and Mechanical engineering will be a great boost to Furness. Instead of having to travel out of the area, students will be able to attend Furness College, in the heart of the community, to gain a recognised university qualification."
Professor Derek Seward said: "I am very proud to be putting something back into Barrow that will have such a profound effect on education and training. Engineering is a very important part of our Furness heritage and this brand new degree will provide greater opportunities for those already in the industry. We very much hope that this will be the beginning of a fruitful relationship with Lancaster University."