Researchers tackle global food crisis
03/10/2010 12:41:42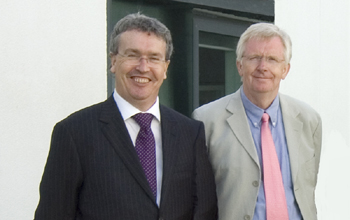 Vice Chancellor Professor Paul Wellings and Professor Bill Davies
Researchers from Lancaster University are in China this month taking part in an international event seeking solutions to the growing problem of food insecurity.
Lancaster University Vice Chancellor Professor Paul Wellings will accompany the Lancaster research team of economists, environmental, social and biomedical scientists to the Sino-UK Workshop on Food Security in Beijing, March 7-11.
The workshop brings together international opinion-formers from a broad range of disciplines with a view to informing policy that will be crucial to feeding a population rising to nine billion.
Climate change predictions show that rising global surface temperatures coupled with significant changes in rain fall intensity are likely to lead to serious droughts and more frequent flooding. This in turn will threaten food production and safe water supplies.
During the week experts from groups will address issues ranging from food affordability and allocation to technological developments and environmental challenges.
Contributors include:
Bingsheng Ke (President, China Agricultural University)
David Norse (University College London former advisor to the UK Government on China)
Peter Gregory (Director,Scottish Crop Research Institute)
Weixing Cao (Nanjing Agric University, Vice-Governor of Jiangsu Province)
Jingyuan Xia (Ministry of Agriculture, China)
Camilla Toulmin (Director, International Institute for Environment and Development)
Alasdair MacBean (Lancaster University Management School)
Camilla Toulmin and Bill Davies (Conference organiser) were members of the Royal Society Working group on Food Security
Food security is one of Lancaster University's key research themes. In 2009 Lancaster University received a £1.33m Research Council UK Science Bridge award to improve UK innovation links with China to addresses this challenge.
The workshop in Beijing is funded by Research Councils UK China on behalf of the four UK Research Councils which are together developing a cross council initiative around food security.
Lancaster University is also funding the workshop along with National Natural Science Foundation of China, Global and Environmental Change And Food Systems and China Agricultural University.