David Starkey at Lancaster University
09/28/2009 14:36:04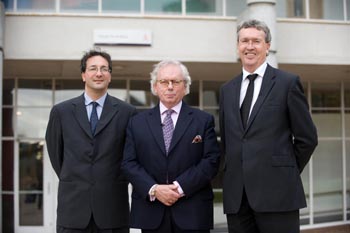 L to R - Professor Andrew Jotischky (LU History Department), Dr David Starkey, Vice Chancellor Professor Paul Wellings
Hundreds of guests came to Lancaster University to hear a lecture by Historian and TV presenter Dr David Starkey this week.
Dr Starkey was at the University celebrating the legacy of one of the most famous monarchs in history.
The History Department invited Dr Starkey to give the public lecture to commemorate the 500th anniversary of the coronation of Henry VIII.
The free lecture, entitled 'Henry VIII: Five Hundred Years of Fame, 1509-2009', was held at 6pm in George Fox Lecture Theatre 1, 22 September, 2009.
More than 400 members of the public, staff and students attended.
Cumbria-born Dr Starkey, perhaps best known for his TV series The Six Wives of Henry VIII and Elizabeth I, has had huge success at bringing history to a mass audience.
He has maintained links with the region and in 2004 he was presented with an Honorary Degree from Lancaster University.
At his honorary degree ceremony Dr Starkey spoke of his pride to be recognised by the University.
He said: "My father knew the first Vice-Chancellor of the University because they were fellow Quakers, and for me there is something very touching about a hero's welcome for the local boy."

For further information please contact 01524 594979 or e-mail is a.jotischky@lancaster.ac.uk