CommIT Lands Top Award
12/09/2005 12:16:15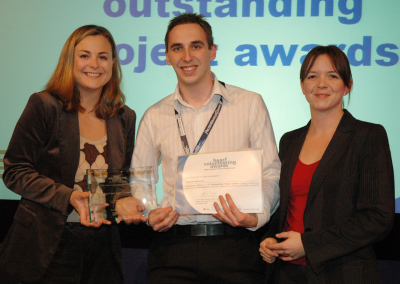 Rob Ellis of LUVU was presented with the award by Phillipa
Forrester and Fiona Hague, Awards Manager, BiTC.
A community IT project led by Lancaster University Volunteering Unit (LUVU) has received a top accolade from the Higher Education Funding Council for England (HEFCE).
The project – called CommIT - received the highest accolade of 'Outstanding Project - Exceptional Winner' at the HEFCE Active Community Fund Award.
The CommIT Project is a partnership between LUVU, Blackpool and Fylde Council for Voluntary Services, PC Recycler, Lancaster University Business Enterprise Centre and Blackpool Council. CommIT is part-funded by the European Regional Development Fund and is led by student volunteers who assist community organisations to make better use of ICT, for example through the installation of recycled computer equipment or the development of a websites and databases.
A total of 24 awards were presented to Higher Education student and staff volunteers and volunteering projects at a high-profile ceremony for 200 guests at the BALTIC Centre for Contemporary Art, Gateshead. The awards, hosted by TV presenter Philippa Forrester, were a celebration of the achievements of student and staff volunteers across the country.
A group of LUVU staff members and volunteers attended the ceremony in Gateshead on Wednesday (7th December), to be presented with a plaque and certificate of achievement.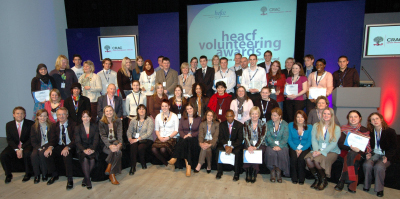 Award winners with HEFCE Chief Executive Sir Howard Newby,
ceremony host Philippa Forrester and judges, Fiona Hague
(Business in the Community), Lee Broughton (Enterprise Rent-A-Car)
and Karen Gorham (PriceWaterhouseCoopers).
Judges described CommIT as 'a brilliant use of the skills and knowledge within the University to engage with hard to reach groups. A model entry with great vision'.
Rob Ellis, LUVU's Community ICT developer, said: "The team members are all very proud of their achievements and we feel proud of the positive impacts that the project has had on Blackpool, both through our work with community organisations and the general public."
Lyndsey Sterritt, who has recently become a project leader said: "The award was really well deserved, considering the passion and dedication given by LUVU and the volunteers, and the enthusiasm with which the clients received the projects. I am proud and feel so privileged to have been part of CommIT."
One person who has benefited from the projects' work is Pat Spencer-Hughes, of the Revoe First Steps Centre in Blackpool.
She said: "Before the CommIT project the residents of Revoe (Blackpool) had little or no access to computers. This project enabled them to not only have access to computers but also the skills and confidence to use them in the future. The residents felt that the workshops' content managed to grab their attention and the enthusiasm from the volunteers kept them coming back each week. In fact all the residents want to come back this year."
Sir Howard Newby, Chief Executive, HEFCE, said: "It can be all too easy to accept the world around us, with its wars and disasters, as a world which we as individuals cannot change; to take for granted the more or less privileged lifestyle that many of us enjoy, and to feel helpless in the face of others' needs. The volunteers and those representing volunteers at the ceremony are there because they haven't given up, and have made a real difference."