Anniversary Fun Run
03/03/2004 09:12:18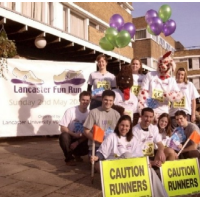 It's time to dust off your running shoes because local charities need you to raise some cash.
On May 2, Lancaster University's 40th Anniversary Charity Fun Run will get underway.
Hundreds of runners of all ages and abilities are expected to take part in the 5 k dash, including dozens of teams from students to school children.
Organized by the Lancaster University Volunteering Unit, the event has been designed to include the whole community.
The run will take place alongside Roses Weekend, on Sunday, May 2. The event is open to all ages, with three different courses, according to age and ability of runners. The day will start with a 500 Metre dash at 10.30am; followed by a 2k Mini Run at 11.00 am and the main 5k Fun Run will take place at 11.30 am.
Participants are encouraged to raise money through sponsorship - headline charities for the Fun Run are the RNLI, RSPCA and local charities Homeless Action and Furniture Matters.
Ben Matthews Manager of LUVU: said: "I see the Fun Run as a real opportunity for members of the University, Schools, Businesses and community organisations to come together whilst raising money for charity and having a great day."
There will be plenty of opportunities to take part in other activities on the day. Attractions include a Real Ale Festival, live radio broadcast by Bailrigg FM, quality catering and a marquee filled with games for all ages. It will be a great opportunity for all members of the community to get together, raise money for charity and enjoy a day out – making it an event not to be missed.
Contact: Ben Matthews at b.j.matthews@lancaster.ac.uk or log onto www.luvu.org.uk/funrun