New Lancaster Environment Centre
04/24/2002 08:52:23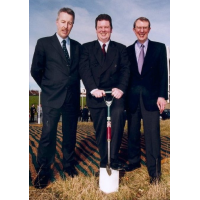 On 12th March work officially began on the new £11m Lancaster Environment Centre being built on Campus.
Building of the new centre is being carried out by the construction firm HBG and completion is expected in June 2003.
The centre will consist of two wings, one for Natural Environment Research Council (NERC) and the other for the University. There will be five specialist new laboratories, 15 new glass houses and 10 controlled environment rooms, enabling the scientists to exploit opportunities in environmental chemistry, plant biotechnology, genomics and agriculture. These are areas where Lancaster already has a world class reputation.
At the official turf cutting ceremony Professor Mike Hornung, Director of the Centre for Ecology and Hydrology (CEH), which is to be relocated from their present location in Merlewood near Grange in Cumbria up to the new Environment Centre, expressed his enthusiasm for the project, sentiments which were also echoed by Mr Euan McGregor, the University's Finance Director.