2006 Staff Prizes
06/30/2006 09:55:27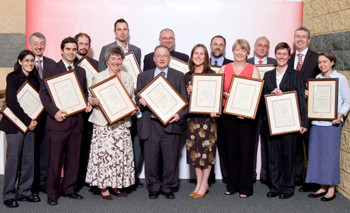 Staff Prizes
Staff, their families and guests came together this week to celebrate the 2006 staff prizes.
Prizes for community work, teaching, research, commercialisation and media and communication were presented by Lancaster University's Pro Chancellor, Bryan Gray MBE, DL , to 14 members of staff from a variety of departments.
An event hosted by the Vice Chancellor was held in the Lancaster Leadership Centre and citations for the prize winners were read out by Pro-Vice Chancellor Professor Amanda Chetwynd.
Margaret Eddowes from the Library and Miriam Murtin from LICA ( Lancaster Institute for Contemporary Arts) received a Staff Community Prize.
Margaret Eddowes' prize was in recognition of her outstanding contributions to the Scouting movement over a period of 28 years and Miriam Murtin's prize recognised her key role in organising events during Lancaster's first Pride Week in December 2005.
Professor Kevin Jones and Dr Kirk Semple from the Department of Environmental Science were joint winners of a Commercialisation Prize recognising work on land, water and air contamination and soil remediation, using research council and CASE funding, to develop long-term links and funding with industry.
Dr Fiona Benson, Professor David Allsop and Dr Jenny Harding from the Department of Biological Sciences also received a Commercialisation Prize. Their prize was awarded for work leading to the licensing agreements with Sigma-Aldrich.
Dr Stephen Pumfrey from the Department of History and Professor David Denver from the Department of Politics and International Relations were joint winners of the Media and Communication Prize.
Professor Denver was recognised for his role in raising the external profile of the University through national media work, giving expert opinion on British Politics and elections. Dr Pumfrey was recognised as an interpreter of the history of science to the general public.
A Teaching Prize went to Dr Sally Bushell from the Department of English and Creative Writing for undergraduate and postgraduate teaching. Her prize recognised continuing excellence in teaching, course design and contribution to developing pedagogic practice.
Professor Geraint Johnes from the Department of Economics also won a Teaching Prize for his ability to enthuse and inspire students at all levels over many years, which is reflected in his consistently outstanding student feedback scores.
Dr Bela Chatterjee from the School of Law won the Sir Alistair Pilkington Award for undergraduate teaching for innovation on the course 'Sexualities and the Law: Hetero, Lesbian, Gay and Bisexual Legal Studies'.
Dr Willem Hollman from the Department of Linguistics & English Language also won a Sir Alistair Pilkington Award for his innovative and creative teaching on the 'Language Change in English and Beyond' and 'Topics in Linguistic Theory' courses.
Dr Alessandro Garcia from the Department of Computing was awarded a research prize for pioneering research in the empirical evaluation of aspect-oriented software development techniques.