HRH Princess Alexandra attends the Vice-Chancellor's Dinner
12/15/2000 12:23:48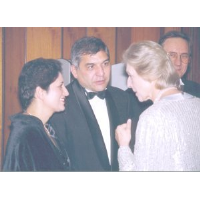 The Vice-Chancellor's dinner was held on Wednesday 6th December, with HRH Princess Alexandra attending.
Guests included staff and well connected external people who have had links with the University.
It is hoped that the resurrection of the dinner will mark the beginning of the University raising its profile and improving public relations.
The princess was on campus for the degree ceremonies. Honorary degrees this time go to volcanologist Professor Stephen Sparks, polymath Professor Jaroslav Krejci and former Town Clerk Mr Charles Wilson.