Minister for Europe visits InfoLab21
07/09/2004 12:00:20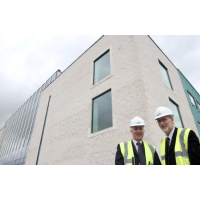 Minister for Europe, Dr Denis MacShane, MP, has visited Lancaster University to check on progress at InfoLab21 – a pioneering new venture on campus.
On Thursday, July 8, representatives from Lancaster University and Lancaster City Council met the minister to take him on a tour of the building, which is nearing completion.
InfoLab21- based at Lancaster University - is a major new ICT (Information and Communication Technologies) facility in the North West of England. The £15m building was made possible with funding from the Northwest Development Agency (NWDA) and the European Regional Development Fund (ERDF).
InfoLab21's mission is to become the premier location for ICT research and development in the region and to be the focal point for the development of ICT business in the North West and beyond.
Lancaster University's Departments of Computing and Communication Systems will operate out of the new building, which will host 250 academics, research assistants, research students and support staff.
The Knowledge Business Centre (KBC), which is at the heart of the University's focus of technology transfer, industry training, exploitation and innovation, will also be based in InfoLab21. A range of companies will be represented in the KBC ranging from international, large organisations to Small to Medium-sized Enterprises (SMEs) and start-up companies.
InfoLab21's Director Professor David Hutchison said: "For a long time we have worked on the research side with companies. What we are doing now with InfoLab21 is to have a purpose-built home for that work, a focal point to help persuade companies to co-locate and work alongside us. The structure of the building is important for the mix of activities - research and commercialisation situated alongside each other, so that each will benefit from the other."
Dr Denis MacShane, Minister for Europe, said: "InfoLab21 is an excellent example of the way European Union funding has played a key part in the regeneration of cities and regions throughout the UK. In the North West EU funding has made a huge contribution to the economic regeneration and job creation of the entire region.
"In an enlarged single market of 450 million people it is essential that Britain stands out as a home of entrepreneurship and innovation, and that we are recognised for our highly skilled and highly trained workforce. The expansion of the EU means exciting new opportunities in Central Europe for businesses in the North West. InfoLab21 will show how the academic and business worlds can work together to give Lancaster a crucial competitive edge."
Lancaster City Council's leader Coun Ian Barker and Cabinet member with responsibility for Regeneration Coun Abbott Bryning met the minister at InfoLab21 and give a short presentation about how InfoLab21 fits in with other EU funded regeneration projects.
The Leader of the Council, Coun Ian Barker said: "Lancaster District has been extremely successful in securing European funds. InfoLab21 is an excellent example of this, bringing prosperity to the City and the North West. The Council is really pleased that businesses are already clamouring for space there and that the investment of the European and regional development money is already beginning to pay off."