Lancaster Leads The Way In Medical Physics
11/23/2007 09:47:38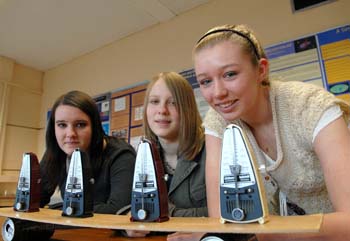 left to right: Pupils Katie Egan, Megan Williams and Alex Astin at a demonstration for the medical physics open day
Thirty seven teenagers from Burnley and Oldham have visited Lancaster University to learn about medical physics, which provides hospitals with everything from X-rays to ultrasound.
The use of physics in medicine also benefits cancer sufferers treated with radiation therapy and patients given MRI body scans.
The pupils were given an insight into studying at Lancaster, which for the first time offers a specialised BSc Physics with MPhys Medical Physics degree.
They were given talks and practical demonstrations including how low temperature physics helps in the development of sensors to look into the brain.
The pupils were from Unity College, Sir John Thursby, Blessed Trinity, Marsden Heights, Burnley College, Burnley Schools Sixth Form, Nelson and Colne College and Radclyffe School in Oldham.
Alex Astin, who is 14 and from Blessed Trinity in Burnley, said she planned to study veterinary medicine.
She said: "It was good to find out about medical physics because it has an impact across different subjects and the demonstrations were really good."
Megan Williams, who is 16 and also from Blessed Trinity, said: "I'm not sure what I want to do but something medical, and looking at different types of medical courses is helping me to make up my mind."
The pupils are all part of their school's Gifted and Talented cohort which is funded from government.
Mavis Hancock is the Gifted and Talented co-ordinator at Unity College in Burnley.
She said: "It's about giving students the opportunity to see what's out there and this is the first time they've visited a university so they were very excited."
Lancaster University leads the Excellence Hub in the North West for the Gifted and Talented initiative. The Excellence Hub works with Higher Education Institutions in the region to provide a range of activities that stimulate and challenge the brightest 5% of school children. The activities are designed to show the young people exciting fields of work, to give them the chance to work with top experts and to encourage them to make the most of their potential.
Mary Candler, Development Officer for Gifted and Talented Pupil Events who works in the Department of Continuing Education, said: "The pupils can get direct information from academics about what is a cutting edge field so it's quite high powered and this visit gives them unique access to the latest developments in this field."
Dr Aneta Stefanovska of the Physics Department said medical physics is an expanding field which offers a wealth of career opportunities.
She said: "If someone has cancer treatment, the whole dosage and control of the radiation treatment is done in the medical physics department of the hospital. Ways of monitoring what's going on in the body without being invasive – like MRI scans and ultrasound - are all due to medical physics."
For information about further events for gifted and talented pupils, call 01524 594894 or email m.candler@lancaster.ac.uk.
http://www.lancs.ac.uk/depts/spc/ugAdmissions/CMP.htm