Lancaster lecturer helps students crack criminal mind
06/04/2008 13:58:04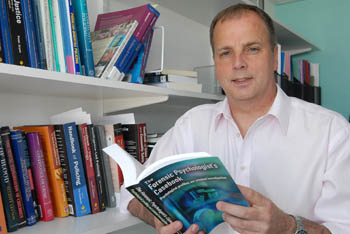 Dr Stuart Kirby
Students at Lancaster University are getting a rare insight into the criminal mind from an offender profiler with more than 30 years of experience with the police.
Dr Stuart Kirby, now a lecturer in Criminology, joined the University following a high-flying career with Lancashire Constabulary.
During his years with the force he was Divisional Commander at Lancaster as well as Detective Chief Superintendent, based at Police Head Quarters, dealing with serious crime ranging from homicide to terrorism.
Following a Ph.D. on child-molesters he became a Chartered Psychologist and since 1994 he has assisted the police as a nationally-accredited offender profiler working on high-profile rape and murder cases.
Offender profilers – now known as Behavioural Investigative Advisors – use their knowledge of behavioural science to investigate serious crime. They have captured public interest through numerous films and television series from Silence of the Lambs to Waking the Dead.
Also a trained hostage negotiator, Dr Kirby is particularly interested in the behaviour of offenders who commit violent and sexual crime. He has used his expertise to help advise police investigations both before and after an arrest has been made.
He said: "We can use our knowledge of patterns of criminal behaviour to help narrow down our search for an unknown offender and – once we have someone in custody - we can use our knowledge of their profile to chose the most effective approach when we are interviewing them."
Dr Kirby, who joined the Police as a Cadet aged 16, became fascinated by criminal behaviour after completing his first degree at Lancaster.
He said: "I first came to Lancaster University as a full time Psychology student in 1985. From the very beginning I was interested in working out how to apply the theory of what I had learned at University to a real life investigation."
Now a lecturer at the University he said he enjoyed sharing his experience with students.
"I love teaching. The students are full of enthusiasm and questions which is refreshing. It makes you take a step back and think about things from a different angle."
As a result of increased interest in this area Dr Kirby will, for the next academic year, be running a 2nd year undergraduate course which looks at the science behind investigation.