Staff and students walk their way to wellbeing
10/07/2010 00:00:00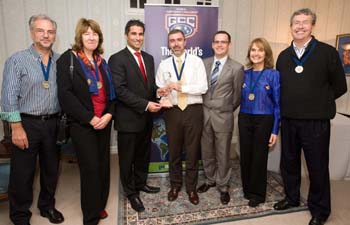 The winning team : from left Trevor McMillan, Mandy Chetwynd, Shane Bilborough of the GCC, Gavin Brown, Tom Sermon of the GCC, Anette and Paul Wellings
Staff and students at Lancaster University have been pounding the pavements, fields and parks around Lancashire for the last 111 days in a bid to become healthier and happier.
The Global Corporate Challenge asks participants around the world to clip on a pedometer and walk a minimum of 10,000 steps a day for 16 weeks.
According to the GCC, the average worker walks around 3,500 steps a day, well below the 10,000 steps recommended by the World Health Organisation (WHO) to improve their health and reduce the risks of disease.
The GCC is a health and fitness initiative developed specifically for the corporate workplace. It was created to address the emerging health crisis resulting from the triple threat - longer workdays, sedentary occupations and little or no exercise.
Almost 14,000 teams from 775 different organisations across 41 countries worldwide took part in the Challenge.
Among these were 12 Lancaster University teams and over the course of the challenge the 84 participants walked a total of 123,654,467 steps, averaging at 14,252 per day, covering an average daily distance of 5.7 miles.
A survey of the Lancaster University teams discovered that
35% reported an increase in their overall health and wellbeing

48% reported an increase in their energy

33% reported an increase in ability to handle stress

33% reported an increase in quality of sleep

36% reported a loss in weight, averaging at around

2 kgs

or 4 pounds per person
On Thursday, October 7, GCC European Director Tom Sermon came to Lancaster University to celebrate the achievement of all the Lancaster participants.
Professor Anne Garden, Director of the Centre for Medical Education at Lancaster University said: 'We all know that exercise is good for us and the motivation of doing it in a team, encouraging colleagues and being encouraged by colleagues, helps us to do what we might not on our own.
"I think it is particularly good for our medical students to be involved in this – promoting good health and preventing ill health is much better than treating the consequences of being inactive'.