LEC research to feature on BBC national news
05/01/2009 13:46:26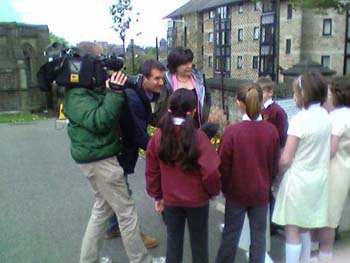 Filming at Cathedral High School
Professor Barbara Maher of the Lancaster Environment Centre has been interviewed for BBC national news following her novel research using magnetic measurements of roadside tree leaves as a proxy for vehicle-derived particle pollution.
The BBC's environment and science correspondent David Shukman spent two days on location in Lancaster for a feature to be broadcast on the BBC Six O'Clock or Ten O'Clock TV news bulletins next month.
Analysis of leaves at different heights shows that concentrations of dangerously fine-grained (< 10 mm) particulate material (PM10), rich in iron, lead and organic carcinogens, are highest at ~ 0.3 m (i.e. small child height) and at 1.5 – 2 m (adult head height) above ground level.
Conventional pollution monitoring station collectors, typically placed at 3 m above the ground, thus significantly under-estimate kerbside particle concentrations. These results indicate that vulnerable groups, especially young children, are exposed to fine, metal-rich, vehicle-derived particles, with significant potential hazard to health.
Prof Maher took him to a pollution hotspot at Cable Street in Lancaster before the film crew moved onto Cathedral RC Primary School, where she explained to children from the school's Environment Club how to monitor levels of fine particles on roadside trees near the playground.
The children were later invited back to the University's internationally known Centre for Environmental Magnetism & Palaeomagnetism at LEC for more information on the research.
David Shukman said: "It's been very interesting to see what's going on at the University and hear how it ties in with people's daily life. Pollution is a big topic at the moment."
Fine-grained pollution particles pose some health risk at any level of exposure, particularly with regard to heart attack and stroke, lung cancer, low birth weights, and mental development in children.
Professor Maher along with Ruth Mitchell (Lancaster University) and colleagues Catherine Moore from the University of East Anglia and Dr Juergen Matzka from the Danish Meteorological Institute analysed roadside tree leaves from a variety of roadside locations.
They found that concentrations of PM10 were highest at the height of a small child – 0.3m – and also at adult head height, between 1.5 and 2m. This means that monitoring station collectors placed at 3m above the surface significantly under-estimate kerbside, near-surface PM10 concentrations. These results indicate that vulnerable groups, especially young children, are exposed to fine, metal-rich, vehicle-derived particules.
High levels of trace metals are implicated in lung disease and central nervous system disorders ranging from learning disorders to dementia and possibly even Alzheimer's disease.
Professor Barbara Maher said her research had shown that magnetic measurements of roadside tree leaves could provide the key data for assessing accurately the levels of pollution that people are exposed to in different areas, and thus identifying much more precisely the specific health risks which result.