Over £1m to boost north-west tourism industry
09/18/2006 12:25:48
Business development experts at Lancaster University have won a £1.14m project to help create jobs in the north-west tourism and leisure industry.
The project, run by the University's Tourism Centre, aims to boost employment by helping medium-sized businesses expand successfully.
Funded by Lancaster University and the European Union Regional Development Fund, the project covers Blackpool, Cumbria, the Forest of Bowland and parts of Greater Manchester.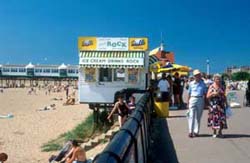 St Annes Promenade
Project Manager Alan Heywood of the Tourism Centre said: "We're looking for owners to contact us if they are ambitious about growing their business.
"We can help with marketing, business development, leadership and innovation.
"It's hard for a business to manage change and sometimes a fresh pair of eyes gives a new perspective.
"We'll be running graduate consultancies and a series of workshops which all help the owner to stand back and think strategically."
This latest project follows a successful four-year scheme to kickstart tourism throughout Lancashire and Cumbria.
The original Learning Tourism project created 79 new jobs in over a hundred businesses and to date, has resulted in over £2.6m increased spending by visitors in the region.
The project was funded equally by the European Regional Development Fund and Lancaster University and aimed to make small businesses become more competitive.
Tara Sewell from the Tourism Centre said: "Each project is different; we tried to give a fresh perspective on how to promote and enhance tourism businesses in the region, and by using graduates, we could work with companies to enhance their business performance in the changing tourism market place".
Among the 111 companies which benefited is "Number One", a guest house in Blackpool where one full-time and three part-time jobs have been created. The five-star upmarket boutique hotel has since been awarded the title of Bed and Breakfast/Guest Accommodation of the Year 2006 by the Lancashire and Blackpool Tourism Board.
The owner, Claire Smith, who founded the business, said: "I'm absolutely thrilled to bits with the feasibility study which found out about the niche market for this upmarket hotel.
"It's all very well having a bright idea and giving up your livelihood to do something completely different but first you have to know it's a viable proposition and not too off the wall.
"The study also impressed the bank and made it easier to raise the money. I couldn't have afforded the time or the money to have it done it myself."
The project also gives the graduates and students vital work experience and impressed potential employers.
Tracey Walker said that working as a business consultant on the project gave her a headstart in her career.
"It certainly boosted my confidence. I often talked about the project in the interviews I had when referring to organisational skills, dealing with different people, meeting deadlines, working to a budget and realising my potential."
Any business or graduates wishing to benefit from the work of The Tourism Centre, which is located within the Geography Department, should contact Alan Heywood on 01524 594947.