Honorary degrees
07/19/2006 12:48:18
Three distinguished people have been honoured with Lancaster University Honorary Degrees this year. The awards, to Ray Bradley, Edward Gregson and Nicholas Abercrombie were made at the July ceremonies.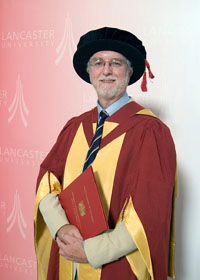 Professor Ray Bradley
Ray Bradley is a University Distinguished Professor in the Department of Geosciences and Director of the Climate System Research Centre at the University of Massachusetts, Amherst. His research interests are in climatology and paleoclimatology, with a particular focus on the Holocene (the last 12,000 years). He has written or edited eleven books on climatic change, and authored more than 120 articles on the topic. His main field research area is in the Canadian High Arctic.

He is a Fellow of the American Geophysical Union, the Arctic Institute of North America and the Royal Meteorological Society. In 2003, he received a D.Sc from Southampton University for his contributions to paleoclimatology.

Ray Bradley has been an advisor to various government and international agencies, including the U.S.; Swiss, Swedish, German and U.K. National Science Foundations, the U.S. National Oceanic and Atmospheric Administration (NOAA), the National Research Council, the Inter-Governmental Panel on Climate Change (IPCC), the US-Russia Working Group on Environmental Protection, and the International Geosphere-Biosphere Program (IGBP). He was particularly active in PAGES – the IGBP program on "Past Global Changes", where he chaired the Scientific Steering Committee.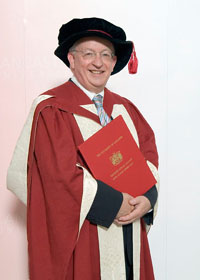 Edward Gregson
Edward Gregson has been Principal of the Royal Northern College of Music since 1996 and is one of Britain's most respected composers. His music has been performed, broadcast and recorded world wide.

His commissions have included orchestral music for the Royal Liverpool Philharmonic, the BBC Philharmonic ( Clarinet Concerto) and the Halle ( Violin Concerto). His most recent commission was a Saxophone Concerto for the Japanese Saxophonist Nobuya Sugawa and the BBC Philharmonic, which received its world premiere in Manchester in May 2006.

He has also written choral, instrumental and chamber music as well as a significant amount of music for wind and brass. His music for the theatre includes commissions from the Royal Shakespeare Company and the York Mystery Plays.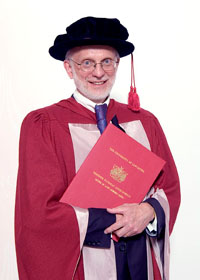 Professor Nick Abercrombie
Professor Nick Abercrombie had a long career at Lancaster University starting with his appointment as Lecturer in Sociology in 1970. He became a Professor in 1990, Pro Vice-Chancellor 1995 and Deputy Vice-Chancellor 1998, before retiring in 2004. He is now Emeritus Professor and Emeritus Professorial Fellow of the Institute of Advanced Studies.

Professor Abercrombie's main academic interests lie in the sociology of culture. He is author or co-author of 18 books ranging from technical books in the social sciences, to student textbooks, to books for the general reader.
His management responsibilities included the management of the University's recovery plan from 1995 to 1999, strategic academic development, quality assurance in learning and teaching and training, and education and research in health and medicine.