Wanna know how English is changing?
08/17/2005 11:01:53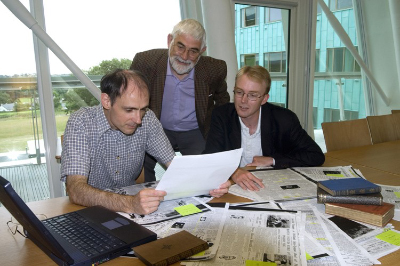 Left to right - Mr. Nicholas Smith, Prof. Geoffrey Leech
and Dr. Paul Rayson.
Researchers at Lancaster and Oxford Universities are set to examine four generations of written English to find out how our language is evolving.
Using sophisticated computer programmes, samples of written English will be examined and the results interpreted by Linguistics and English Language experts.
The two-year study, funded by the Leverhulme Trust, will take in over five million words of written English starting in 1901, including 1931, 1961 and 1991. It brings together computing experts at both Lancaster and Oxford Universities with Lancaster University's department of Linguistics and English Language.
This type of study is now possible thanks to the development of computer databases that are able to sample language in exactly the same way from different periods. These samples can then be analysed using advanced linguistic processing software.
The texts, which are taken from a wide range of sources, including the press, religious writing, government documents, academic prose, adventure and love stories, and humour, include both American and British English.
The project will focus particularly on changes in grammar, which English speakers are inclined to assume is unchanging, and inscribed in tablets of stone. But previous studies at Lancaster, in collaboration with Freiburg University in Germany, have already established that English grammar changed significantly in the period 1961-1991.
These changes include:
•Decreasing use of modal auxiliaries - words like could, should and would – especially shall, ought to, must and may.
•Increasing use of alternative expressions like have to, be going to and want to - often reduced in speech to hafta, gonna and wanna.
•Increase in use of colloquial contractions like it's, we'll, and weren't.
The new study aims to find out whether the language has been changing more quickly in recent years than before, and how far modern changes reflect patterns which began earlier in the century.
The Leverhulme Trust project is "Changing English across the 20th century: a corpus-based study"
The principal investigators are: Dr. Paul Rayson, Mr. Nicholas Smith and Prof. Geoffrey Leech (UCREL, Lancaster University). Mr Martin Wynne (Oxford University Computing Services). They have been awarded a research grant of up to £82, 111.