High Tec Homes
08/02/2004 09:00:01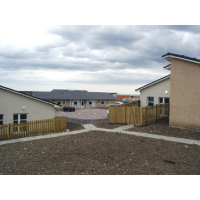 A Lancaster University researcher has helped give autistic people greater independence thanks to a cutting-edge accommodation project, which opened this month.
Lancaster University Computer Research Associate Guy Dewsbury helped put together over 50 unobtrusive, custom-made technology packages for a groundbreaking specialist accommodation development in Aberdeen.
This month Malcolm Savidge MP in Bridge of Don, Aberdeen, officially opened the final development, which provides purpose-built rented accommodation for people with higher-level autism and learning difficulties.
Working with Aberdeen City Council's social work and housing services, Mr Dewsbury incorporated a number of special features into the building design. These included an integrated fire alert system, water and electrical isolation facilities as well as a personal attack system. Other technology features in the homes included soundproofing, underfloor heating and burglar alarm monitors.
Mr Dewsbury said he hoped the tailor-made approach to resolving individual housing needs would lead to improved quality of life for both residents and support staff and be taken up by other localities in the UK. The technology should enable the support staff to spend more time performing the roles effectively without worrying about the residents' activities.
This last of three developments Guy has been involved in is a £1.8 million development by ARK Services Ltd received grant funding of £490,000 from Communities Scotland, the Scottish Executive's housing and regeneration agency. Aberdeen City Council provided the land and a contribution to the construction costs of £240,000 together with funding for the assistive technology, with further funding of £930,000 made available by the Bank of Scotland to the developers and £140,000 from NHS Grampian.
Performing the opening ceremony Aberdeen North MP Malcolm Savidge, said: "This is a most impressive and imaginative project."
He added: "It is important that people with a learning disability have the opportunity and the support to enable them to live close to their family and friends if at all possible."