University Wins Cycle Challenge
08/29/2008 09:23:40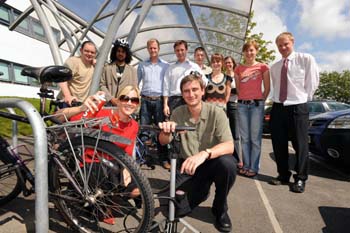 Geography Staff with Dr Phil Barker (right), Travel Co-ordinator Phil Longton (back right), and Lancaster City Council's Bee Scott (left)
Lancaster University is officially Lancaster and Morecambe's Most Cycle-Friendly Employer after almost a third of staff in the Geography Department cycled to work on National Bike to Work Day.
The event on June 18th was organised by Lancaster City Council as part of the Lancaster & Morecambe Cycling Demonstration Town (CDT) project.
185 people from 25 organisations took part in the challenge to see which company is the most cycle friendly. The challenge had prizes for the highest number of cyclists, the best idea to promote cycling to work and an individual prize draw.
The Geography department at Lancaster University won with 28 per cent of staff cycling in, a higher proportion than any other employers in the district on that day.
Dr Phil Barker from the Geography department received the prize of a comprehensive bicycle maintenance repair kit.
He said: "We were delighted to be successful in the company challenge and to receive our prize. The track pump has already been well used, with many people inflating their tyres to the correct pressure for the first time ever and realising what a difference it makes.
"Cycle-to-work events are valuable ways of raising the profile of cycle commuting and hopefully will encourage new people to see cycling as their most practical way of getting to work."
Bee Scott, Workplace Cycling Officer for Lancaster City Council, who organised the challenge said: "I was so pleased that so many people rose to the challenge, and persevered despite the inclement weather. The Geography Dept did so well, and their prize means they can continue cycling to work, and helping others do the same"
Philip Longton, Lancaster University's Travel & Environment Co-ordinator, said the University is keen to promote environmentally friendly forms of travel. Already, more than 13% of staff cycle to work as their main mode of commuter travel.
He said: "The Geography Department is a superb example of what can be achieved when the right package of measures is in place to increase cycle commuting. We are hoping to enable more University staff, as well as students, to commute by bicycle and we shall be looking at the example of the Geography Department to see what can help."