Awards ceremony
07/12/2006 10:58:54
Thirty nine teachers at Lancaster University have been awarded certificates after completing professional development programmes.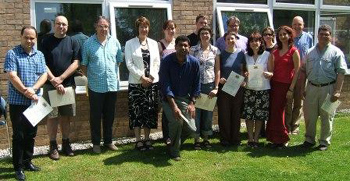 Award winning group
The Centre for the Enhancement of Learning and Teaching runs the courses for academics, postgraduate teaching assistants, part-time teachers and other employees involved in student learning.
The aim is to improve teaching skills, including assessment and course design, and examine how students learn.
On completion of the course, lecturers are awarded the Postgraduate Certificate in Academic Practice (CAP) and teaching assistants the Certificate of Achievement in Learning and Teaching in Higher Education.
Ali Cooper, the Director of the CAP programme, said: "It's a fantastic achievement with all the competing priorities that participants on the programme have to deal with.
"Lancaster University and its students are very lucky to have such committed and accomplished teachers."
The certificates were presented by Prof Mandy Chetwynd, Pro-Vice Chancellor for Colleges and the Student Experience, who highlighted the importance of the role of mentors in supporting staff on the programme.
The teachers who received the certificate of achievement are:-
Mohamed Bakari (Engineering), Lynne Crook (English and Creative Writing), Alexander Gallas (Sociology), Nahed Ghazzoul (Linguistics), Thomas Grimwood (Philosophy), Hernan Gutierrez-Sagastume (Sociology), Tania Horak (Linguistics), Beth Johnson (Institute for Cultural Research), Joanne Larty (Institute for Entrepreneurship and Enterprise Development), Anne Rudolph (Women's Studies), Wayne St-Amour (Management Learning and Leadership), Sonya Sharma (Women's Studies), Robert Smith (Politics and International Relations), Jill Thurman (Biological Sciences), Amy Wang (Linguistics).
The CAP passes included:- Plamen Angelov (Communications Systems),Lenny Baer (Geography), Agata Fijalkowski (Law), Ann-Marie Houghton (Educational Research), Hannah Morgan (Applied Social Science), Corina Sas (Computing), Denis Sindic (Psychology).
In addition there were passes in the CAP module one:- James Faulconbridge (Geography), Peter Hopkins (Geography), Mark Hounslow (Geography), Sue England (Biological Sciences), Claire Fitzpatrick (Applied Social Science), Mike Hazas (Computing), Simon Lock (Computing), Daphne Lui (Accounting and Finance), Katy Mason (Marketing), Andreas Mauthe (Computing), Ian Nicoll (Educational Research), Elizabeth Olson (Geography), Grezgorz Pawlina (Accounting and Finance), Neil Ralph (Management Development Division), Antii Saario (Music), Francois Taiaini (Computing), Kwok Tong Soo (Economics), Joanne Wood (Student Learning Development Centre).

www.lancs.ac.uk/depts/celt/profprog