Technology Provides Key to More Independent Living
02/19/2004 13:19:27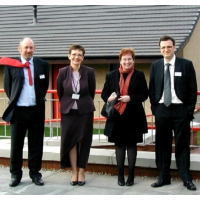 A researcher from Lancaster University has helped give autistic people greater independence thanks to cutting-edge accommodation design.
The ground-breaking housing development, launched this month at Balnagask Circle in Aberdeen, comes complete with "Assistive Technology" – a series of clever features designed to make life in the home easier and safer for both clients and their carers. Custom-made technology packages, put together at Lancaster University specially for the project, include an in-built fire alert system, water shutoff and electrical isolation facility as well as a personal attack system.
The 14 bungalows, which are the first of their kind in the country, will house upto 16 people with higher-level autism and learning difficulties, enabling them to access care and support in their own homes.
A second development, planned in co-ordination with Aberdeen City Council housing and social work departments, is set to open later this year.
Lancaster University Computer Research Associate Guy Dewsbury said he hoped the tailor-made approach to resolving individual housing needs would lead to improved quality of life for both residents and care staff.
He said: " I visited the hospital and talked to professionals and family members to get a good idea how their relatives operated in a very real sense. We hope the end result will lead to better quality of life because the residents have greater freedom to move around their own homes without someone watching them every second and carers can easily access help should they need it. Residents will also benefit from the fact their new homes are not clinical institutions, they can have a sense of living in the real world in their own private homes yet still be provided with the support they need."
The £1.3 million development by ARK Services Ltd is the first of its kind. The project received grant funding of more than £407,000 from Communities Scotland, the Executive's housing and regeneration agency, and £114,000 from NHS Grampian. Aberdeen City Council provided the land and funding in excess of £100,000 which covers the cost of the Assistive Technology. The balance of funding is made up by private finance.
Pictured left to right are: Stan Johnson: Goldshield Securities Ltd, Dorothy Askew: Abdn Housing, Liz Sergeant (project manager) Abdn Social Work Manager, and Lancaster University Computer Research Associate Guy Dewsbury.