Transit of Venus at Lancaster Observatory
06/08/2004 16:36:58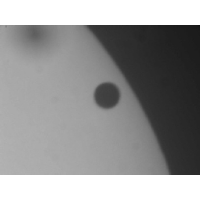 Scientists, students and staff at Lancaster University looked heavenward to catch a glimpse of Venus passing in front of the Sun – a sight that has not been witnessed for more than a century.
Between 70 and 100 people – including academics from a consolation of different departments along with technical and administration staff and students – made their way to the Dame Kathleen Observatory to watch the transit of Venus.
During the transit, the planet Venus passes directly between the Earth and the Sun, casting a circular shadow, which slowly creeps across the face of the Sun. There are at most two transits of Venus every century. The last one was more than 100 years ago in 1882.
On Tuesday, June 8, visitors were able to clearly see the sharp circular disc of Venus on the bright solar disk.
Observatory scientists opened up at 6:00am in order to catch first contact at 06:20am.
Dr Ian Bradley of the Department of Physics said: "Cloud initially obscured first contact so that we got our first view at about 6:23am when about 10 per cent of the disk of Venus was covering a small portion of the Sun.
"Conditions were never good but were best early on and just before the end of the transit.
The problem was initially thick but local cloud with gaps but by 8am, a thin haze developed which thickened throughout the morning. I think everybody who visited, was able to see the disk of Venus on the Sun provided they were patient enough to wait for a gap in the clouds and haze."