Sir Chris Bonington is to be new Chancellor
02/02/2004 09:10:10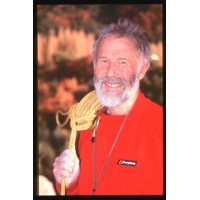 It was recommended that Sir Chris Bonington CBE becomes Lancaster University's new Chancellor at the meeting of Court held on Saturday 31st Jan. This was subject to confirmation in a formal postal ballot held in February.
He will replace H.R.H Princess Alexandra who has been Chancellor of Lancaster for 40 years, and saw the University created in 1964.
Chris Bonington, who was knighted in 1996, is Britain's best known mountaineer, he has led and been on 19 Himalayan expeditions, including 4 to Everest which he climbed in 1985 at the age of fifty, and has made many first ascents in the Alps and greater ranges of the world.
He is also the author of 15 books and has presented and appeared in many television programmes.
Lancaster University awarded him an honorary degree in 1983 ( DSc Hons).
Chris Bonington said : "I am very happy to accept the honour of Chancellor and will do all I can to help and support the efforts of the University. I feel deeply honoured to follow in the footsteps of Princess Alexandra, who has done a wonderful job for Lancaster. I have met her on several occasions including when she presented me with my doctorate.
"The lead that the University has taken to progress the International Centre for the Uplands - Cumbria, which I believe has a lot to offer, has impressed and encouraged me. I have also enjoyed working with Lancaster University Management School. I believe the University has an important role as a centre of excellence for the region."
Lancaster University's Vice Chancellor Professor Paul Wellings said: " We are delighted to welcome Chris Bonington as Chancellor in the year of Lancaster's 40th Anniversary. The University, like Chris, is committed to enhancing the North West region and to challenging international frontiers.
" I would like to pay tribute to H.R.H Princess Alexandra, who retires this year after a long and happy association with the University."
Chris Bonington will preside over his first degree ceremony at the University in 2005.