First season for Live at LICA
09/10/2010 12:49:29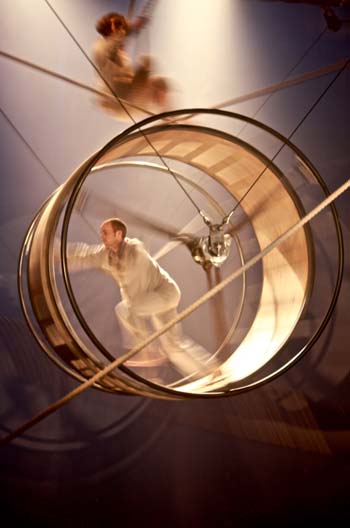 Ockham's Razor and their new show The Mill
Live at LICA, formed from the merger of The Nuffield Theatre, the Peter Scott Gallery and the Lancaster International Concert Series, present their first season of public concerts, exhibitions and performances.
The autumn season features the Poet Laureate Carol Ann Duffy who is performing at the Great Hall and also presenting her children's book "The Princess' Blankets" with musician John Sampson at The Platform in Morecambe.
Other highlights include the Tchaikovsky Symphony Orchestra of Moscow Radio, which has premiered many of the greatest Russian works of the 20th century, with music selected by members of the audience; and the play "If That's All There Is", a sell-out hit at last year's Edinburgh Festival where it won the Festival Fringe Prize 2009.
Meanwhile work is progressing on the new £10m LICA building which includes three large performance studios, rehearsal and installation space and a design and build lab. It will host academic activity in art, design, film, music, theatre and dance as well as support for professional artists at all stages in their career. The building will be open to students and staff from October, with an official public launch in the spring.
The Director of Live at LICA, Matt Fenton, said: "Our artistic programme has been put together by a new team, and for the first time the season has a linking theme: crossing divides, be they cultural, artistic or historical. Highlights such as the aerial spectacle of Ockham's Razor, Ellie Rees' stunning film-works and the Czech fusion ensemble Bardolino make this the most exciting, varied and accessible programme we have yet delivered."
"Autumn also sees some important new partnerships. With Litfest we are presenting the fantastic Carol Ann Duffy; with Ludus Dance we have commissioned three of the UK's most distinctive choreographers; and we have brought together Lancashire Sinfonietta with young choreographers and a film-maker to develop a new interactive version of The Nutcracker for children this Christmas."
All booking, internet or postage fees have now been abolished, and there are discounted web advance tickets online and savings of up to 20% for multiple tickets. There are also free tickets for the under-26s on selected theatre shows and group discounts.
Call the box office on 01524 594151 or purchase discounted Web Advance tickets at: http://www.liveatlica.org