LUVU's Extra-Mural Activities
06/20/2003 16:26:33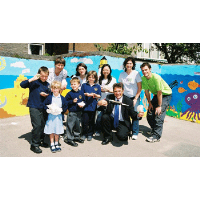 The next two weeks will see Lancaster University's Volunteering Unit (LUVU) working on an exciting new project which involves volunteers going to local schools and painting murals on plain, unused walls with the help of children from the schools.
This week the student volunteers will be working at Thurnham Glasson Christ Church C of E Primary School, working with pupils to develop designs and transfer them to an area of wall in the playground. The children have decided on a 'By the Sea' theme due to the school's proximity to Glasson Dock.
The LUVU projects are very much community orientated and the aim of this particular project is to brighten up the playground, create a feature that will stimulate the imagination of the children with a theme that will help them to learn more about their environment.
Emphasis is placed on getting the children involved as much as possible, and all of the pupils have played an active role in developing the designs and will have an opportunity to paint the mural. Melissa, a LUVU volunteer, has been working on the project since its launch and is keen to make sure that the pupils at the schools feel that this is their project. She said, 'We want to get them involved as much as possible, in the creating, designing and painting of the mural so that they feel it is theirs. It also means that they will be able to point out what they have done to parents and brothers and sisters who visit'.
Hilton Dawson MP, Chair of LUVU's steering group has shown his support for the project and will be visiting Thurnham Glasson C of E Primary School later in the week to try his hand at painting and meet pupils, teachers and student volunteers.
Thurnham Glasson is the first school to be visited by the Arts project volunteers. Next week the LUVU team will be moving on to St Patrick's RC Primary School in Heysham to work on a mural with the theme of 'Noah's Ark'. LUVU have had a positive response so far and hope that next year they can extend this project and get more schools in the area involved.