Sir Christian Bonington awards higher and honorary degrees
12/30/2007 12:49:09
Lancaster University received over 3,000 visitors as postgraduates and their family and friends attended ceremonies for the conferment of Higher and Honorary Degrees on 12 December.
The graduates received their higher degrees or diplomas, including those from Blackpool and the Fylde College, Edge Hill University and the University of Cumbria.
During the ceremonies, The Chancellor, Sir Christian Bonington, awarded honorary degrees to Baroness Farrington of Ribbleton and to Mr N. R. Narayana Murthy.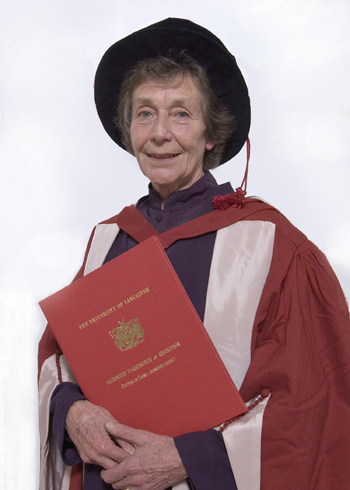 Baroness Farrington of Ribbleton
Baroness Farrington of Ribbleton received a Doctor of Laws from Lancaster University. She has played a notable role in the life of Lancashire, and represented the county at national and international level. She was elected to Preston Council in 1973 and to Lancashire County Council in 1977. She chaired the County Education Committee from 1981 to 1991, and the County Council in 1992. Her successful leadership brought her a wider role with the Association of County Councils and representing regional interests in Europe. She became President of the Council of Europe's Committee for Culture, Education and the Media and was chosen as UK European Woman of the Year. In 1994 she became a Life Peer and has served in the Government since 1997.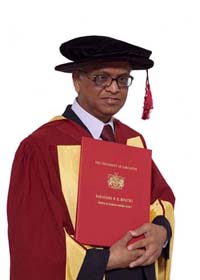 Narayana Murthy

Lancaster

University also conferred an honorary doctorate on Narayana Murthy, Chairman and Chief Mentor of Infosys Technologies Ltd. Narayana Murthy, one of the founders of Infosys, is a towering figure in the world of business and is known for his immense contribution to India's recognised presence in the global information technology sector. Mr Murthy tirelessly promotes the information technology industry of India, and he is a staunch supporter and advocate of management education both in India and abroad. In honouring Mr Murthy Lancaster University honours a rare individual who has made a lasting contribution to both the world of business and the world of business education. Mr Murthy has been described by Indian students studying at Lancaster as their 'idol'.