Nuffield Theatre and Dukes Youth Theatre Collaboration
04/23/2009 11:58:14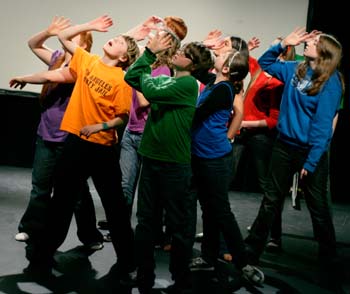 "From Where I'm Standing"
Nuffield Theatre associate artist, theatre director Neil Callaghan, worked with a group of 10 gifted young performers selected from the Dukes Youth Theatre.
Supported by Neil, LICA MA student Ellie Kinchin-Smith and Nuffield Projects Officer Alice Booth, the group created From Where I'm Standing, a performative meditation on what the site of the city of Lancaster might contain many years in the future, perhaps even after humans are long gone.
The performance was presented to a packed audience at the Dukes DT3 Young People's theatre on 9 April.
The project, which will now be made into a short film, forms part of the Postcards to Africa project. Through working with professional creative practitioners, this initiative aims to get young people to celebrate their lives, homes and surroundings and look at how these things affect them in their daily lives.
Filmed 'postcards' which highlight the emotional and physical landscapes of young people, will be sent over to young people in Nigeria through project partners 'Stepping Stones Nigeria' and exchanged for films and recordings created by Nigerian young people.
Matt Fenton, Nuffield Director, said: "From Where I'm Standing was a fantastic performance; layered, polished and professional. The Nuffield is proud to have collaborated with these talented young performers and The Dukes on such an amazing project."