Anniversary party is a night to remember
09/08/2004 16:18:34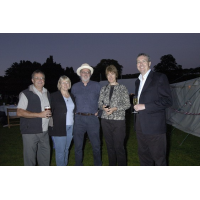 Hundreds of staff and their families attended a party at Leighton Hall on Tuesday night to mark the 40th anniversary of the University.
Highlights of the evening were live music, a treasure hunt for children, birds of prey displays, a hog roast and a fireworks show. Around 1,300 people – including dozens of children – attended the event, and coaches were laid on at the university to ferry guests to and from the hall.
"It was a lovely evening, a great success," said Academic Registrar Marion McClintock who helped as part of a team of colleagues to organise the party. "It was nice watching cars and coaches wind their way up the drive - and seeing everyone arriving and turning into party people. There was a very good feeling about the evening."
The night's entertainment begin with music on the terrace in front of the hall - a Blues Brothers Tribute Band followed by the Lancaster Singers with a specially devised programme of songs, and finally a band playing selection of popular music. The Vice-Chancellor, Professor Paul Wellings, made a brief address before the evening finished with a spectacular firework display set to music.
For children there were three bouncy castles, an entertainer, a giant Jenga, skittles and face painting plus a woodland treasure hunt. The hall also opened up its Aviary Garden for the evening where the resident falconer gave a talk and displayed the birds of prey. "Lancaster University will be sponsoring a tawny owl there to mark the evening and a special plaque in the aviary can be put up," said Marion.
Food and drink were provided in marquees on the lawn in front of the hall and guests were also entitled to a free drink on arrival. The party went with very few hitches, although there were two ambulances on site in case of emergencies. "It all went very smoothly and Suzie Reynolds and her husband Richard who own Leighton Hall were very supportive," said Marion. "We had excellent help."
It was certainly a night to remember, said Marion. "The most frequently asked question has been 'Why did we wait 40 years to do this?' That says it all!"