Ruskin Library participates in Venice Biennale exhibition
09/08/2010 00:00:00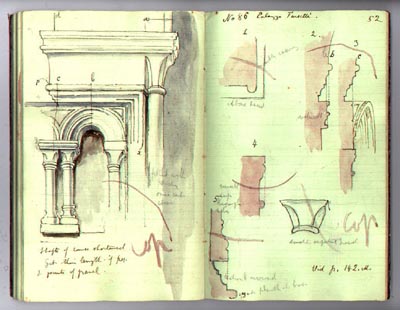 Image of one of John Ruskin's original notebooks
Exhibits from Lancaster University's Ruskin Library have been attracting crowds in Venice.
Seven of John Ruskin's original notebooks have been lent to the Venice International Architecture Biennale – forming an important part of the exhibition in the British Pavilion, juxtaposed with photographs by a contemporary chronicler of the city, Alvio Gavagnin.
The Ruskin Foundation has lent Ruskin's notebooks, which formed the basis of his 3-volume book The Stones of Venice (1851-53), and contain the Victorian critic's detailed drawings and notes on the buildings of the famous Italian city.
The notebooks, which rarely leave the University, have not been seen together in Venice since Ruskin brought them back to England in 1850.
A separate room in the pavilion affords access to the electronic edition of the notebooks, undertaken by the Ruskin Centre and completed in 2008: http://www.lancs.ac.uk/depts/ruskinlib/eSoV/index.html
The theme for the 12th Venice International Architecture Biennale exhibition of 2010 is 'People meet in Architecture'.
The Pavilion was opened on 26 August by Ed Vaizey, Minister for Culture, Communications and Creative Industries, who was shown round the Ruskin element by Professor Stephen Wildman, Director of the Ruskin Library and Research Centre, and Robert Hewison, Honorary Professor in the Centre.
Professor Wildman said: "Seeing the notebooks back in Venice is quite thrilling. Nobody before or since has ever looked at the city's architecture in such detail. Ruskin's name is still quite well known here, but this exhibition shows how remarkably significant he remains today, especially in ideas on conservation and sustainability. Local visitors are particularly happy to see in the Biennale a display focusing for once on Venice itself."
The exhibition is open until 21 November.
For further details go to: http://www.dezeen.com/2010/08/27/villa-frankenstein-by-muf-architectureart/