Lancaster student shortlisted for prestigious Science award
08/24/2010 00:00:00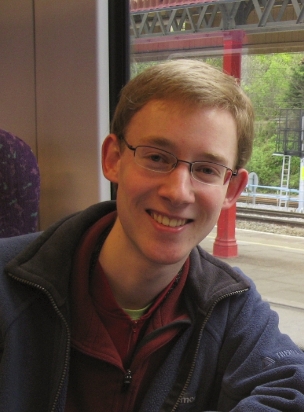 Andrew Hoyle
A Lancaster University student has been nominated as a finalist for a national award for his research into a 'super material' which could transform the world around us.
22-year-old Physics graduate Andrew Hoyle from Rossendale, Lancashire is one of just 3 students in the UK to have been shortlisted in the SET (Science and Technology Student of the Year) Awards for his 4th year research project investigating the nano-mechanical properties of graphene - the thinnest slice of material existing in nature.
Graphene is a single layer of graphite, which is found in the humble pencil. Just one-atom-thick, it is incredibly light yet highly conductive and could be used in anything from high-speed electronics to ultra light weight rechargeable batteries.
However, manufacturing and manipulating single flakes of the material is a painstaking process – researchers use sticky tape to pull layers of graphite apart until the material is a single atom thick.
In the course of his 4th year work, Andrew was the first individual to produce in-house graphene at Lancaster and to test mechanical properties of this minute leaf of material using scanning probe microscopy combined with ultrasonic vibrations.
Andrew said: "Although reliable and repeatable manufacture of large scale graphene flakes remains one of the greatest barriers to the realisation of graphene based devices, the potential applications of graphene are profound.
"If these obstacles can be overcome, graphene looks set to take its place in history as one of the fundamental materials which changed the course of the human race. Like stone, bronze, iron and silicon before it, the "Age of Graphene" is fast approaching - ensuring graphene is the focus of cutting-edge scientific endeavour for many years to come."
His supervisor, Oleg Kolosov, said: "Andrew graduated this year with first class honours and an average mark well over 80%, after also winning the Departmental award for the best MPhys project.
"He is undoubtedly the top outstanding undergraduate research student I've worked with so far, in my past experiences of interacting with students from the best Universities in the USA, Europe and Japan."
Supported by British industry and the UK's leading scientific and technical institutions, the SET Awards are established as Britain's most important awards for undergraduate science and technology, providing a showcase for academic accomplishment recognizing the remarkable achievements of both students and universities. From national submissions, three finalists are selected in each category with winners to be announced at The Awards' Gala Dinner and Presentation Ceremony taking place on the evening of September 3rd at the London Hilton Hotel.