Full House For Tony Benn Lecture
10/09/2008 09:58:41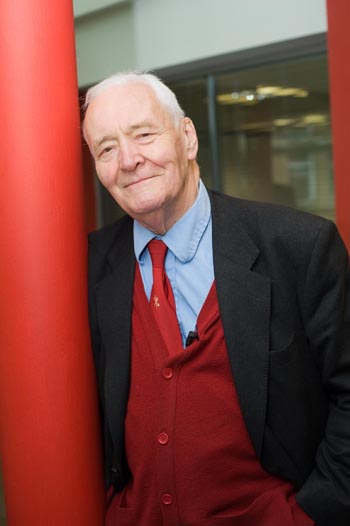 Tony Benn
The veteran political campaigner Tony Benn gave a public lecture at Lancaster University this week before a packed audience.
Faraday Lecture Theatre was full to capacity with people sitting on the steps of the auditorium for Mr Benn's talk entitled "Peace or War: the Choice for Humanity".

He had been invited to deliver the 2008 Richardson Institute Annual Peace Lecture. The Richardson Institute is a peace and conflict research centre and part of the Department of Politics and International Relations.

His talk drew on years of experience both as a Labour MP and Cabinet minister and more recently as an anti-war campaigner.He spoke about the futility of war, saying the main beneficiaries are arms manufacturers and the media and he criticised the wars in both Iraq and Afghanistan. His arguments were backed up by anecdotes and jokes based on his long experience of politics, having met everyone from Nelson Mandela to Saddam Hussein.
Now 83, Mr Benn said he was an optimist inspired by the younger generation who he said did not believe all they are told by the media and Government. Half the two hour lecture was taken up with questions from the audience, with volunteers wielding microphones so everyone could hear.
The Institute's Director Dr Feargal Cochrane said: "It was a very good turnout with people coming from Preston to hear him. It was a fascinating talk and we were really pleased that he could come."
This is the third annual peace lecture at the Richardson Institute which was established in 1959 as the first peace research centre in Britain. The inaugural lecture was given by the renowned Middle East correspondent of The Independent Robert Fisk, who is an alumnus of Lancaster University. Last year's peace lecture was delivered by the distinguished former BBC Foreign Affairs Correspondent Martin Bell.

The lecture was filmed by Lancaster University Television and will be available on the website of the Richardson Institute soon.