'Magic' Bacteria hope for British Farming
06/06/2007 12:36:18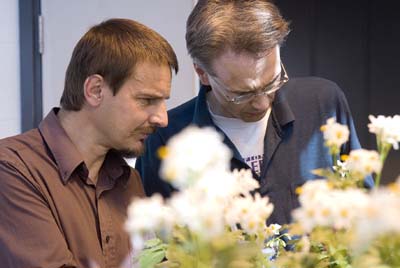 Dr Andrei Belimov (All Russia Research Institute for Agriculture and Microbiology), Dr Ian Dodd (LEC).
Glorious blue skies may be good news for some but for many British farmers and growers the promise of a long hot summer spells trouble.
Now, thanks to a £70,000 grant from the Horticultural Development Council, Lancaster University has teamed up with a Russian scientist to help find ways to grow crops with less water.
Over the next three years researchers based at Lancaster University's Lancaster Environment Centre will look at ways of growing crops like peas and lettuce under dry conditions without losing crop yield.
LEC director Professor Bill Davies said: "The great weather we have been experiencing lately is potentially a big problem for food production – growers are suffering already from water shortage and things are expected to get a lot worse by the end of the summer."
One possible solution to the problem could come from a naturally occurring soilborne bacterium called Variovorax paradoxus . Scientists have discovered that this bacterium can help plants to access more of the water available to them in the soil.
LEC researcher Dr Ian Dodd said: "We know plant root systems are good at getting water from the soil – but they could be even better and it appears that this bacterium assists in promoting root growth, helping plants scavenge even more effectively for water. If this works to allow plant yielding with reduced water availability, it will be a very green solution because are we not adding anything that does not already exist in the soil."
To do this LEC plant experts have teamed up with Dr Andrei Belimov - a Microbiologist from the All Russia Research Institute for Agriculture and Microbiology in St Petersburg who specialises in the study of plant root bacteria. LEC will provide the expertise in plant responses while Dr Belimov contributes his expertise in bacteria.
Dr Belimov said: "This is an important partnership because it enables us to bring together our expertise and work together observing real plant microbe interactions – it's a very productive approach."
Part of the work will be conducted under realistic horticultural conditions at Myerscough College in conjunction with Myerscough's Co-ordinator of Research, Dr David Elphinstone.
Dr Elphinstone said: "This work provides a good example of how detailed scientific studies can lead to potential practical applications to improve sustainable crop production."