Lancaster Researcher To Curate New Work At Inaugural Manchester International Festival
07/05/2007 10:49:30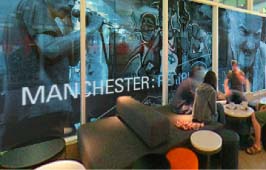 The audio-visual installation entitled Manchester:Peripheral
A Lancaster University researcher has been commissioned to curate an installation at the inaugural Manchester International Festival.
Drew Hemment is currently the Associate Director of Imagination@Lancaster, a new interdisciplinary research group based in the Lancaster Institute for the Contemporary Arts (LICA).
In recognition of Hemment's work over 11 years commissioning and producing new and innovative work as Artistic Director of Futuresonic, he has been invited to curate a £40,000 networked installation within the Manchester First's strand at the world's first festival of original, new work.
Based in Piccadilly Gardens and the nearby Kro Bar, the audio-visual installation entitled "Manchester:Peripheral", the latest work by The Folk Songs Project, mixes music, voice and ambient sounds, and involves live network links between the centre and periphery of the city.
He said: "I have worked with the artists over two years on this project, which has gone through a number of phases. The first phase was premiered at the Futuresonic 2006 festival, and enabled people in Manchester to remix the sounds of the city online. This latest phase inverts the relation between centre and periphery by allowing people living on the edges of the city to select the sounds heard in an evolving sound installation in the centre. They can vote for their favourite sounds at special control kiosks placed in outlying wards of the city, which are connected to a network set up for the project. It's a little like digital culture's version of X-Factor!"
He said the project aims to reflect the diversity of music and culture in Manchester with a focus on wards on the edge of the city which are often marginalised.
"It's about bringing in sounds from the periphery of the city and I hope people feel their lives are reflected in the project."
The installation can be seen at Kro Piccadilly and Piccadilly Gardens until July 29. It was made possible with the support of the Manchester International Festival, The Arts Council England, Kro, Piccadilly Partnership, Saville Audio Visual and the Museum of Science and Industry in Manchester.
www.manchesterinternationalfestival.com