Lancaster Poetry Professor wins Jerwood Prize
04/28/2009 13:20:02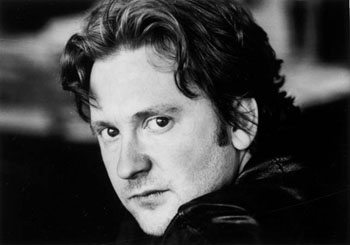 Professor Paul Farley Copyright© Jane Brown
Lancaster University's Professor of Poetry Paul Farley has been revealed as one of four winners of the Royal Society of Literature's Jerwood Prize for non-fiction.
Paul, who lives in Lancaster, won the prize for his forthcoming study Edgelands - Journeys into England's Last Wilderness, to be published by Cape in 2010. It is the first time the award has been given jointly, to Paul and his Edgelands co-author Michael Symmons Roberts, Senior Lecturer in Creative Writing at MMU,
The Royal Society of Literature and the Jerwood Charitable Foundation offer three annual awards, one of £10,000 and two of £5,000, to authors engaged on their first major commissioned works of non-fiction. Michael and Paul each received £2,500, which will go towards the travel and accommodation costs involved in writing the book.
Speaking about his achievement, Paul said: "It's good to have gained this recognition from the RSL and Jerwood, especially so I think because Michael and I are primarily poets and this is our first foray into non-fiction."
"The idea behind Edgelands was a response to the array of rural landscape books currently lining bookshop shelves. Michael and I wanted instead to write about the forgotten areas of our country, the overlooked places on the outskirts of towns that planners refer to as 'edgelands', full of business parks, rubbish tips, scrap yards and storage depots. We want to explore and celebrate them."
Professor Paul Farley, Department on English and Creative Writing, studied at the Chelsea School of Art and has published three collections of poetry that have received widespread acclaim, including the Whitbread Poetry Award. He has held a Royal Literary Fund Fellowship, and from 2000-2002 he was writer-in-residence at The Wordsworth Trust in Grasmere. His work has been included in several major anthologies, including the US publication New British Poets (St Paul: Graywolf Press, 2004) and the landmark ecological project, Wild Reckoning (London: Calouste Gulbenkian Foundation, 2004). He was one of the Next Generation Poets, showcasing the best new poets of the past decade, in 2005.
He has judged the National Poetry Competition in 2003, in 2004 he was invited to join the panel judging the T.S Eliot Award, and in 2006 he co-judged the Foyle Young Poets of the Year Award, Britain's most prestigious poetry prize for young people. 2006 saw the publication of a new collection of poems, Tramp in Flames - which was shortlisted for the international Griffin Poetry Award - the only British book in this category - along with the Forward Prize and T.S Eliot Award.