SuAndi leads performance project workshop
08/10/2004 16:18:41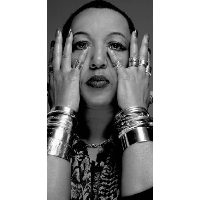 Performance poet SuAndi will be leading a free two-day workshop entitled 'Sussed Words, Monologues and Soliloquy' at Lancaster University in October as part of the Women's Writing for Performance Project.
Born of Nigerian and British heritage, SuAndi has been a performance poet since 1985 and has had a wide variety of roles working across the Arts. She tours nationally and internationally - her latest commission 'The Story of M' received critical acclaim on both sides of the Atlantic.
She has worked in galleries in association with exhibitions and installations - work with visually impaired women resulted in a photo/Braille text shows – and she has also been a curator of fine art exhibitions, linking them to the written word. She has previously performed at Lancaster University.
"We're really pleased that SuAndi is doing this workshop," said Penny Darby, co-ordinator of the Women's Writing for Performance Project. "The project has already had a really good range of workshops – with comedienne Jenny Éclair, poet Jackie Kay and performance artist Bobby Baker, and this workshop is another opportunity to work with a fantastic artist who is different to those that we've had before."
The Women's Writing for Performance Project is based in the university's Department of Theatre Studies and funded by the Arts and Humanities Research Board. It was launched at the start of 2004 and will run for three years.
It aims to understand more about the way women represent themselves in their performance work as well as to create an internationally recognised research unit for the study of women's performance writing, to encourage more academics and performers to think about women's work and to open access for performance-based writing workshops.
There will be 16 places available on SuAndi's workshop on October 2 and 3, and people from all performance backgrounds will be considered. "It's not just for Theatre Studies students," said Penny. "We are looking for a mixture of people – those already involved in performance or those wanting to get back into it and from a whole range of ages and backgrounds who will each bring a different perspective. The selectors will pick out a group that they think will work together well."
For details of SuAndi's workshop, which takes place on October 2 and 3, contact project co-ordinator Penny Darby on e-mail p.darby@Lancaster.ac.uk or visit the website http://www.lancs.ac.uk/depts/theatre/womenwriting/