Apprentices Aim Higher at Lancaster University
03/29/2011 13:12:09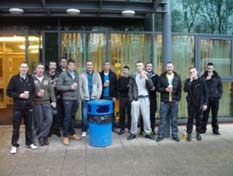 Apprentices at Lancaster University
Apprentices from Accrington and Rossendale College had a taste of what it would be like to study their subject at degree level when they visited Lancaster University.
The students, who are working towards an N.V.Q. Level 3 in Motor Engineering, gained an insight into what Lancaster University has to offer in this area.
Dan Pinder, Training Support Officer at Accrington and Rossendale College, was delighted with the visit and not only for the positive impact on the learners.
"This trip was a new experience for us and we, as mentors, now find ourselves in a much stronger position to be able to advise and assist our learners when it comes to them considering the next stage of their careers. We can use our increased knowledge to benefit not just this group, but future groups too."
The apprentices were welcomed by Professor Derek Seward before touring the Engineering department, where they looked at the Formula Racing project to design and build a racing car from scratch in the university workshops.
Current engineering undergraduates also talked about what it is like studying at Lancaster and what careers they are planning.
The trip was funded by Aimhigher Lancashire's Work Based Learners project which introduces young work based learners to the opportunities available in Higher Education.
Rory Daly from the University's UK Student Recruitment and Outreach office (UKSRO) gave a workshop on ways into Higher Education while student ambassadors from UKSRO gave a workshop on student finance.
Fred Binley, Head of UK Student Recruitment and Outreach, said: "It was great to welcome young apprentices onto campus and engage them in what is happening within our Engineering Department. Hopefully for some, a degree at Lancaster will be the next development stage in their careers."