Not just a pretty seat
03/31/2008 11:08:53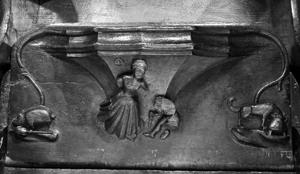 wife beating her husband with a ladle ©
New book sheds light on hidden church carvings
A new book from Lancaster University has shed fresh light on a unique slice of Medieval life in the North West.
A wife beating her husband with a ladle, a bare breasted mermaid and a noble griffin savaging a richly dressed man are just some of the intriguing images depicting the struggle between sin and virtue carved underneath choir stalls in major churches in the North West.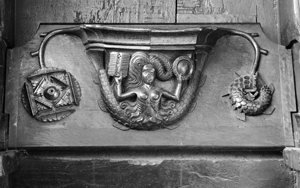 bare breasted mermaid ©
The book by John Dickinson – Misericords of North West England, their nature and significance - is published by Lancaster University's Centre for North West Regional Studies.
A misericord – also known as a mercy seat - is a small wooden shelf underneath the folding seats in churches which offers some solace to the weary monks, obliged to stand during long periods of prayer. The carvings underneath these seats are also known as misericords.
The book explores seven major sets of misericords in the North West - Carlisle, Cartmel, Chester, Lancaster, Manchester, Nantwich and Whalley/Blackburn.
Academic administrator John Dickinson grew up in Canada and first laid eyes on a misericord during his 1996 honeymoon in England. Since 2000 he has carried out research in major churches and cathedrals across the region.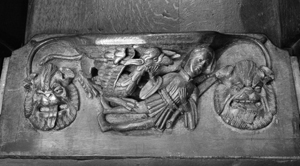 noble griffin savaging a richly dressed man ©
Mr Dickinson said: "These carvings are some of the very best examples of medieval craftsmanship but when they were carved their subject matter was not considered fit for the eyes of the general public. They were hidden away in the holiest part of the church where no-one save the monks and the priests were allowed to venture.
"The carvings depict the real humour of the world as it was understood by late medieval monks, clergy and carvers in the North West. Some carvings are humorous, worldly-wise, rude or even anticlerical. Their messages and teachings are far more complex than those images found elsewhere in churches."
The book is available via the Centre for North West Regional Studies website at: http://www.lancs.ac.uk/depts/cnwrs/allbooks.html, or by contacting Christine Wilkinson at 01524 593770.
© images reproduced with kind permission from CNWRS