Marine Energy International Workshop at Lancaster
01/13/2011 00:00:00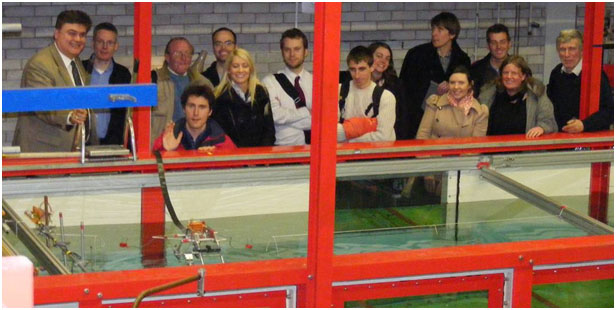 Dr G A Aggidis LUREG Director (left) with marine energy researchers at the LUREG Wave Tank Testing Facility
On Monday 10th January, Lancaster University Renewable Energy Group (LUREG) hosted a one day International Research Workshop on Marine Energy.
This international marine energy research workshop discussed the numerical modelling, optimisation and wave-tank testing of wave energy converter arrays.
Dr George A Aggidis LUREG Director said "It's all about the motion in the ocean. Ocean energy has an essential role to play in response to increasing energy needs and CO2 reduction. It is safe, inexhaustible and mostly predictable, offering security of supply, innovation and economic development. The UK is at the forefront of the ocean renewable energy industry, through its research and development programmes, test facilities, and offshore experience from oil and gas extraction. Ocean energy technologies are advancing toward a larger scale. Research is needed to enable cost effective, large-scale deployment of these technologies."
"If 0.1% of the renewable energy available within the oceans could be converted into electricity it would satisfy the present world demand for energy more than five times over" (UK Marine Foresight Panel, 2000).
"Between 15% and 20% of current UK electricity demand could be met by wave and tidal stream energy." (Carbon Trust's Future Marine Report, 2006).
Attendence at the workshop included UK Universities from Lancaster, Edinburgh, Imperial, Manchester, Exeter , Queens Belfast and International Universities, including Ecole Centrale De Nantes in France, Ghent in Belgium. The independent renewable energy consultancy Garrad Hassan were also respresented.