Lancaster Graduate crowned Enterprising Young Brit
04/28/2010 09:40:21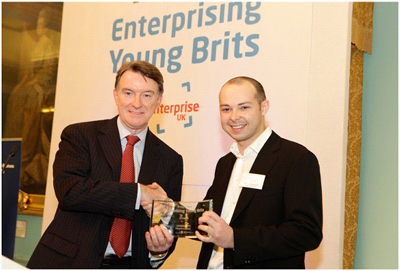 Lord Peter Mandelson presenting Antony with his award
A Lancaster University graduate whose company is worth £20 million has been crowned Enterprising Young Brit at a glittering event in London.
Antony Chesworth, 29, holds a degree in Computing from the University. In 2002, shortly after graduating, he went £25,000 in debt to set up his shopping business ekmpowershop.com.
Antony, whose company is based in Darwen, scooped the highly acclaimed award from Lord Peter Mandelson at the Institute of Directors, which was attended by some of the UK's top business people.
The competition is open to entrepreneurs who have made their idea happen in a new, innovative or inspiring way.
The award was presented in style by Lord Peter Mandelson, Secretary of State for Business, Innovation and Skills.
Antony ran up huge credit card debts to get his business going against all odds. His company which enables people to build their own online shop is now worth in excess of £20 million pounds. ekmPowershop.com is now the market leader in UK ecommerce, powering 1 in every 5 online shops in the UK.
Commenting on his achievement, Antony said: "The whole essence of ekmPowershop.com is to enable people to set up their own online business. Winning the Enterprising Young Brit award is an honour and it shows that with drive, ambition and a bit of perseverance anyone can succeed."
Lord Mandelson, Business Secretary of the State, said: "Despite the toughest economic conditions we have known for the past decades, this year's competition has received a record number of entries. That says something about enterprise and about the young people who are committed to enterprise in this country."
Antony will now become an Enterprise UK Ambassador. As an Ambassador for the organisation, Antony will network with some of the UK's top entrepreneurs.
For more information go to www.ekmpowershop.com