Pupils get a taste for Science and Technology
06/24/2009 12:36:56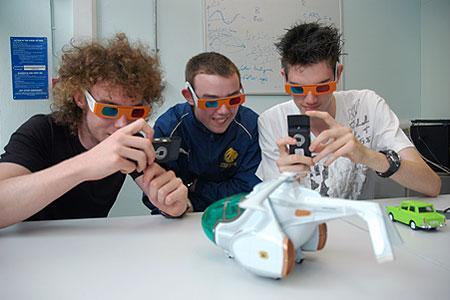 Students from Rivington and Blackrod High School at last year's event.
Pupils will be rubbing shoulders with Professors at Lancaster University on July 1 as part of a Science and Technology taster day.
Around 200 pupils from schools across the region will take part in lectures and workshops designed to give them an insight into some of the world-class science and technology taking place at Lancaster.
The year 12 students will have a chance to chat with staff and students while taking part in a series of short lectures and practical workshops. Taster sessions range from the latest in mobile phone development to police DNA analysis.
They will also have a chance to find out more about Lancaster's Physics Department – currently ranked number one for research in the UK.
The day is aimed specifically at those students who are interested in these subject areas and how they would be taught at University.
Sessions will be offered in the following subject areas: Maths, Biological Sciences, Geography, Environmental Science, Physics, Psychology, Computing, Communication Systems (ICT) and Engineering.
To find out more please go to http://www.lancs.ac.uk/sci-tech/schools/