Chaplaincy Centre To Promote Citizenship On Campus
03/30/2007 16:58:29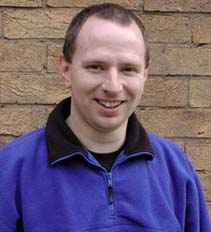 Methodist Chaplain the Rev Steve Charman
The Chaplaincy Centre at Lancaster University has been granted £15,000 for an artist-in-residence as part of a scheme to promote shared citizenship.
The Government's Faith Communities Capacity Building Fund aims to help organisations promote community cohesion through interfaith work.
Over £4m worth of grants have been made to more than 300 organisations in the UK, including 28 in the North West.
The Methodist Chaplain at the Chaplaincy Centre, the Rev Steve Charman, said he was delighted.
"The Chaplaincy Centre has an international reputation because it's at the forefront of interfaith work and this helps us raise our profile worldwide and move forward the whole agenda of people of faith working together."
This is the first time there has been an artist-in-residence at the Chaplaincy Centre.
"Creative art is a great way of bringing people together as they get their hands messy and work as a team.
"There could be art-related work looking at different faith groups with an exhibition, workshops and seminars to build up relationships between the different groups.
"We have Sikhs, Christians, Jews, Muslims, Buddhists, Hindus and members of the Bahai faith on campus and it's about bringing people together to develop their understanding of different faiths."
Communities Minister Phil Woolas said: "We must continue to emphasise our sense of Britishness and the shared values which hold us together.
"It is vital that we find ways of bringing people from different faiths and cultures together to understand their differences and celebrate their shared experience.
"Faith organisations play an important role in our communities and know their communities well. We want to draw on the expertise of faith, interfaith and non-faith based community groups and do all we can to support them."
The artist-in-residence is expected to be appointed in September.