Pupils Turn Detectives at Lancaster University
08/02/2007 15:31:36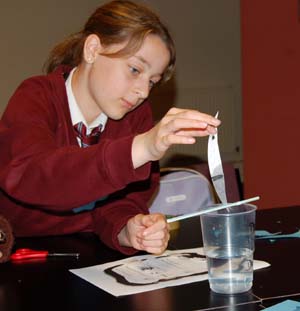 A Skerton High School pupil examines the evidence
More than 100 pupils from local secondary schools visited Lancaster University this week to learn more about law and crime.
In a series of action packed days, run by Lancaster University Volunteering Unit (LUVU), pupils were given an insight into why people commit crimes, how they are punished and how the legal system works.
Pupils witnessed a mock mobile phone theft and were introduced to some of the investigative techniques used by Lancashire Police's Crime Scene Investigation (CSI) team.
Year 10 pupils from Skerton, Morecambe, Carr Hill and Carnforth High Schools also donned legal wigs and robes to perform a mock trial complete with a defence team, prosecution team, judge, jury and media group.
Lancaster University student David Dry, who led sessions and played the defendant, said: "The pupils really engaged with the activities and put a lot of effort into investigating and preparing their case. They gave us such a grilling in the witness box.
"Pupils and teachers really enjoyed their visits – some described them as 'much better than lessons!"
The visits also gave pupils the opportunity to think about going to university.
The Law days were just one of many activities that LUVU has run during June and July.
In June, 40 year ten pupils from Carnforth and Skerton High Schools visited the University for a science day when they talked with students, visited the library, experienced what it was like to attend a lecture and solved DNA puzzles with an academic from the medical department.
The Unit also welcomed children from Ryelands, Willow Lane and Skerton primary schools in early June for a Creative Arts day. 15 local schools have been involved in the project this year, and their work can now be seen in a huge display on the wall of the sports centre at Lancaster University.
Project Co-ordinator, Nichola Stewart, said: "This has been a really busy year for us here at LUVU, with activities running for pupils of all ages, from primary schools to sixth form centres. We would like to say a big thank you to all the schools, organisations and volunteers who have worked with us and supported us this year."