Carbon lifestyle guide published
05/18/2010 11:57:39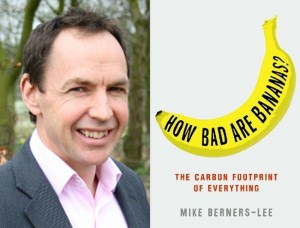 Mike Berners-Lee
The director of a Lancaster Environment Centre associate company has written a shopping bible for the eco-conscious.
Mike Berners-Lee, Director of Small World Consulting based in the Lancaster Environment Centre, Lancaster University, has published a new book, 'How Bad Are Bananas?' explaining the carbon footprint of nearly everything – from a red rose to a long distance flight, from a text message to the Iraq war.
Part popular science, part lifestyle guide, it is the first book to provide the facts we need to make carbon-savvy decisions on every scale.
The book covers everyday dilemmas (plastic carrier bag versus paper? Potatoes versus rice?), the big decisions in life (having children, being cremated) and even flags up some not-so-guilty pleasures (going to the pub). It also tackles the odd sacred cow… like PV solar panels (an expensive way to cut carbon).
He shows how and why the carbon footprints compare, in order to give us an instinct for carbon. He debunks many myths, helping individuals to make sensible and informed choices – and there's plenty for policy-makers too.
The book has already won praise from other writers including Bill Bryson who said "I can't remember the last time I read a book that was more fascinating and useful and enjoyable."
Mike Berners-Lee said: "I hope people have fun with this book. Dip in and out of it and get to grips with some of the surprises. I wanted to write something that was funny and engaging about this totally serious subject . Most of us have very little idea of carbon behind our lifestyles."
So how bad are bananas?"Not too bad actually in carbon terms …providing you actually eat them," he said.
Mike Berners-Lee is the founding director of Small World Consulting. His clients include Booths Supermarkets, Taylor Wimpey, The National Trust, Aurora Fashions, The Science Museum (London), Cumbria Tourism, and many other businesses and organisations.
How Bad Are Bananas?, The carbon footprint of everything by Mike Berners-Lee is published on May 20th.

Mike Berners-Lee will be giving a short talk on his new book on Friday 28th May, 4 – 5pm, in the LEC Courtyard at Lancaster University, he will also be available for signing copies.
The event is open to all and there will be some light refreshments available. Please email Amanda Faulconbridge(a.faulconbridge@lancaster.ac.uk)if you are attending to assist with numbers for refreshments.