Lancaster Students Unveil Race Car
06/25/2008 09:08:13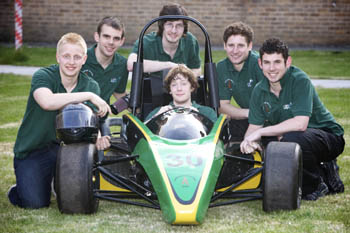 Lancaster Formula Student Team
A team of seven students from Lancaster University have unveiled a high-performance race car they designed and built themselves, ready to take part in the Formula Student race at Silverstone on 10th – 13th July.
The students, all studying mechanical or mechatronic engineering, have spent nine months planning and creating the car from scratch. It weighs approximately 220 kgs, produces 400bhp per tonne and can reach speeds of more than 100 mph, with acceleration of 0 – 60 in approximately 3.5 seconds. It is sponsored by student accommodation provider University Partnerships Programme (UPP).
Formula Student is the biggest student motorsport event in Europe, held every year to encourage future engineering talent. It is recognised by the Institute of Mechanical Engineers and developing the car was an integral part of the students' fourth year of study.
The Lancaster team will be competing against other student teams from across the world, some of which have more than 100 people working on their teams.
The team's induction design engineer, Alex Bartlett, said: "The last nine months have been a real learning curve for us. We're a small team, but this is great because it means we've each had an important role to play in the car's creation. We've all had to pitch in with both the mechanical and management aspects of the project.
"Students from Lancaster have been competing in Formula Student since its inception nine years ago and have had some great successes during that time. We'd love to finish in the top ten, but even if we don't the experience has been extremely worthwhile.
"We've developed a great sense of teamwork and time management as well as practical skills. What we've learned will be invaluable in our future careers."
Tony Allen, regional director at UPP, said "UPP is proud to be working in partnership with Lancaster University and sponsoring Lancaster Racing 2008."
Ahead of next month's race, the car will be tested on a rolling road and on the tarmac at Samlesbury aerodrome.