Students Gain Insight Into Teaching As A Career
06/30/2008 17:19:27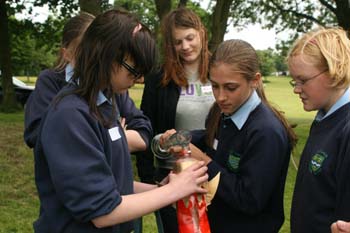 Student volunteer Nicola Bennett helps pupils from Our Ladies' Catholic College in Lancaster build a rocket: photo courtesy of Abi Williams
The first ever PGCE Week at Lancaster University has seen twenty students interested in becoming teachers gain valuable experience by working with local schoolchildren.
The week of events was organised by Lancaster University Volunteering Unit (LUVU) and involved 250 schoolchildren from six schools in Blackpool, Lancaster and Morecambe.
They were involved in a series of events both on and off campus which were designed to engage the pupils and give the students an insight into their future career.
Joe Bourne, Schools Projects Co-ordinator for LUVU, said: "Both the students and the schoolchildren benefit. The aim is to give the pupils a bit of a boost in terms of getting them excited about a subject, raising their aspirations and showing them what university is like and that it's within their reach."
A class from Our Lady's Catholic High School in Lancaster had fun building a rocket with the help of the University's Department of Engineering, assisted by the volunteers. The rockets were rated on their design, stability and distance, with the furthest reaching a distance of around 90 metres.
The student volunteers also played host to a class from Palatine High School in Blackpool, who took part in a Creative Writing Workshop with guidance from lecturer and author Dr George Green from the Department of English and Creative Writing.
An afternoon of creative arts was held at Layton Primary School in Blackpool, where the students worked with 90 pupils on a variety of projects aimed at helping the children discuss the impact they have on others, from the dangers of bullying to the importance of recycling. The children made penguins out of recycled bottles and book bags from recycling newspaper.
A similar day of events was held on campus with pupils from St John's Primary from Blackpool, West End Primary from Morecambe and The Loyne Specialist School from Lancaster, which climaxed in a performance of their achievements by each school involving singing, poetry and various artworks being displayed.
The student volunteers attended a workshop on writing a PGCE application with the help of Agnes Finlay from CEEC, and they heard from local teachers about the realities of working in the classroom.
Mature student Lisa Stevens, who is in the second year of a Linguistics degree, said: "Thanks to LUVU for a great week of work experience – I would definitely recommend it to future volunteers."