Arts events
12/01/2008 12:01:57

Nuffield Theatre Presentations



9 May @ 8pm

LOW LIFE - Blind Summit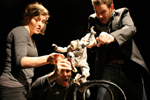 LOW LIFE - Blind Summit

A truly unmissable cabaret of people with hang-ups and puppets with hang-overs...
Inspired by the short stories and poems of Charles Bukowski, the "Poet Laureate of Skid Row", puppet innovators Blind Summit take us to a desperate, gin-soaked bar full of deadbeats and losers. Making no attempt to conceal themselves, Blind Summit's puppeteers skilfully bring their puppet co-stars to life to tell their dark and drunken stories.
A man dances a love duet with a beer glass, a washed-up starlet drinks to forget, Bud the action-hero-plumber is literally drowning in drink and Jack Belane, tiny private detective, totally screws up a case. These are the characters of the 'Low Life Cabaret', where puppets tell their tales to a soundtrack of the gravelly Tom Waits.
'Mad, bad and beautiful in equal measure.' **** Guardian
'If puppetry is ever to be the next rock 'n' roll, these animators may well be its front men.' ***** Time Out
As part of the 'A Night Less Ordinary' free tickets scheme, we have set aside a number of free tickets for young people under 26 for ALL festival events, on a first come first served basis. Please contact the box office for further details
£10 / £7 concessions

www.nuffieldtheatre.com | boxoffice@nuffieldtheatre.com
Tel: 01524 594151