Postgraduate Finalist in Arts Contest
03/06/2009 11:25:04
A Lancaster University student is a finalist in a national arts competition. Colette Lawlor, who is studying for an MA in Creative Writing, is a finalist in the Poetry category of a competition organised by the arts magazine Aesthetica. Colette's poem 'On the Way to the Exhibition' can be found in the Aesthetica Creative Works Annual 2009.
Colette, who lives in Silverdale and teaches creative writing at the Adult College in Lancaster, said her MA in Creative Writing at the University is a huge help. "There is a lot of reading your own work to other writers and getting feedback so it's very useful. You can gauge other people's reactions and see how your writing is perceived so it's invaluable."
On the Way to the Exhibition

we stepped onto the nearly missed bus,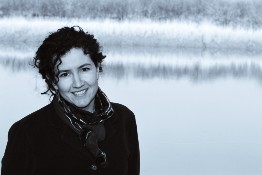 that I'm sure was green,
aimed for the side-seats,
the ones where you face other people,
lurch forward with each turn, grin.
As she sat, a coloured shop-front
peeped from my mother's coat.
Plastic laminate, worn daily
and easy to keep clean
with cartoon rows of shops – grocer, butchers, bakery – vendor at each door, wares
drawn into windows.
I remember, because it was my favourite one,
and she turned wide-eyed to me,
concealed the forgotten apron,
on that bus I recall being in Liverpool
but she always says was Southampton.


Colette was inspired by poetry after taking an Open College course, and now has plans for a novel.
The competition is open to entries of fiction, poetry and artwork and the winner of each category will be awarded a prize of £500. Winners and runners up will be published in the 2010 Aesthetica Annual. The magazine is the only British arts publication to address the arts as an interdisciplinary whole, with features on the visual arts, literature, film, music and theatre. In 2008 Aesthetica launched the first Creative Works Competition to dedicate an entire volume to new and upcoming talents, culminating in the publication of the 2009 Aesthetica Annual.
Aesthetica's 2008 Competition was judged by Cherie Federico, Creative Writing lecturer Kate North, and national journalist David Martin. Cherie Federico said: "I've always loved finding new writers and learning about new artists so the competition has been a real eye-opener. Furthermore our 2008 competition proved to be a major springboard for many of the finalists involved so I'm hoping to nurture some new careers in 2009."