Lancaster Researchers talk sustainability with the Prince of Wales
02/10/2010 12:11:17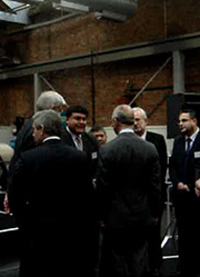 George Aggidis talks to HRH The Prince of Wales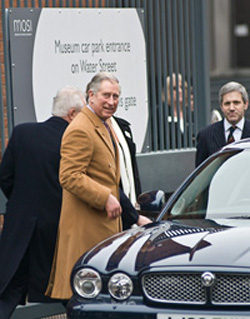 HRH The Prince of Wales
Members of Lancaster University's Renewable Energy Group (LUREG) were among the guests invited to the launch of a major new sustainability initiative by HRH The Prince of Wales at The Museum of Science and Industry in Manchester this month.
'Start' is a national initiative by The Prince's Charities Foundation to promote and celebrate sustainable living. Its goal is to help people across the UK take clear, positive and practical steps towards a better future.
Attending the launch, LUREG's Director George Aggidis had the opportunity to speak with Prince Charles about Lancaster University's role in the development of renewable energy in the UK.
George Aggidis said: "I was very impressed with the depth of knowledge HRH The Prince of Wales has about the challenges involved with the development of renewable energy and his passion to put sustainable living at the core of society."
LUREG, based in the Department of Engineering, carries out research into conversion of energy from renewable sources, including waves and tides of the sea and land-based hydro power.
For more information visit LUREGs website at http://www.lancs.ac.uk/fas/engineering/lureg/